How to avoid ever being caught!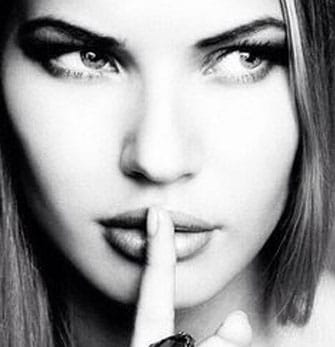 The question of confidentiality comes down to the level of quality you choose for yourself..  Men will often select only the best in travel, conveyance, attire, beverages and domicile – but when it comes to the company they keep and their relaxation/ emotional connection, they will try to skimp and save! Cutting corners is rarely a wise choice when it comes to comfort, and the same applies when it comes to the energy to which you expose yourself.
Some gentlemen feel safer somehow with an independent escort, thinking she will not expose him. However this is no guarantee, as we have seen most of those VIPs discovered with a professional companion, were exposed by her, an independent escort… Of course we cannot generalize – there are plenty of independents who operate with integrity and honor. However there are also many whose main drive is money. If they can blackmail you or find a way to not only be paid for her story, but also promote herself for free – at the expense of your reputation, pretending she had nothing to do with it, she will… So this is no real solution either.
While the old adage "you get what you pay for" may apply in most situations, sadly it no longer applies in the companion industry. (Although of course seeking out the lower end of the industry will bring less chance of discretion than at the upmarket end!) What I'm saying is that unfortunately, one can no longer depend on confidentiality, just because one is paying a premium or requesting privacy. The only way to ensure this, is to follow the reputation of a company or escort.
Even THAT is not necessarily a guarantee, as there have been plenty of ladies and agencies who do remain close-mouthed while in business, for their own benefit, BUT as soon as there is a sign of trouble, they spill their client list faster than a child caught shoplifting… So how to ensure one's personal details will be protected, and not made public knowledge for the agency owners' benefits or private escort's 'accidental' promotion at a later date?
Using a reputable, professional dating agency should bring with it a certain level of protection. Like any truly five star, high quality establishment, privacy and confidentiality is an understood provision of luxury. Discretion is everything in the world of high society. Problems occur when we have low quality individuals whose sole goal is money, masquerading as 'high class'. One way to assess this is the consider the language utilized on their website and in their marketing. The image they have chosen with which to represent themselves. The articulation of the telephonists, or at least the process with which they cater for your inquiry.
For example, Mynt Models® is one of the few agencies that is operated by an educated manager of upper class background. You will easily see the high standards with which the agency is operated and presented, and the open promises it makes to protect privacy and identity – not that this is any guarantee, as anyone could claim to provide privacy, then what will stop them from discarding that promise when the chips are down…? In this day and age, where honor, honesty and integrity are but rare jewels in just a few crowns..
You can only be truly protected when the agency follows through with legal documentation. Any agency willing to sign on the dotted line, will most definitely be an agency you can trust. And this will include proof of the company name (ie registration certificates).
How We Protect You:
Not all agencies offer serious dedication to protecting you. At Mynt, all our staff signs a non-disclosure agreement, (telephonists, models and management alike) stored on site. We also offer a non-disclosure agreement for any clients who request it as an additional guarantee for peace of mind. We don't retain records or a database of your information. Your details will be used for screening purposes, or retained during the course of your date or weekend, for the protection of the model, and for the convenience of contacting you where needed. However once the appointment is concluded, your details and the details of the date are destroyed by paper shredder, and incinerated for 100% protection.
The agency will need your genuine details for confirmation and security procedures, however even though the models all sign a non-disclosure agreement, you could also protect yourself further by asking the agency to use a pseudonym or pen name for you. Let's say your name is Luke, and you request the model know you as 'Leo' – no problem. The model will be told she is going to meet a gentleman named Leo, your real details will have been verified by the agency, and you have protected yourself from unnecessary disclosure. All information provided to the models is on a need-to-know basis.
The upscale ladies that are selected and recruited for a high end agency like Mynt Models® are fully screened, and sign the aforementioned legal documentation, so your confidentiality is guaranteed. Most other agencies will allow random people on their books, hiring any girl who looks good, and they offer no guarantees. For them, your privacy is up to you to protect, they take no responsibility.
While legally, it is agreed in the disclaimer that any accidental disclosure will not be the responsibility of the agency, it should also be stated 'while we do our utmost to protect your privacy..'  yet some of these less professional companies will not even lift a finger to attempt to protect you, figuring their disclaimer is enough. So it is worth spending some time to look for quality. The last thing you want is a breach of your privacy, as this could cause you no end of problems, leaving you exposed, embarrassed, and with no one to help you. Your career, relationships and reputation are all on the line, and must be protected. A high quality agency will offer you protection as well as reassurance, regardless of their official legal disclaimer.
Mynt Models® openly guarantees and promises to never, ever share or divulge your personal details or anything about your interaction with the agency, to anyone outside the agency, for any reason. The agency management would never dream of stooping to the low position of using their clients as a jumping board for their own financial gain or notoriety – how common! No, you can rest assured that your contact with or use of the Mynt Models® agency for companionship will be held fiercely protected in the confidential arms of the agency's high-minded management forever.
How You Can Protect Yourself
Do your research and stick to long established agencies, with a reputation for privacy. Too much flash, or certainly those boasting of specific VIP individuals utilizing their agency, are signs that you should probably avoid them.. Generally the higher-end companies are promoted by word of mouth. You should also always insist on a non-disclosure agreement between you and the agency, promising full efforts to protect your identity, and a guarantee of never using your personal details for their own promotion or financial gain outside of your personal business with the agency.
When meeting a model, always book into a five star hotel or resort, and if you are of VIP status you can request to be addressed by the hotel and booked into the room under an alias. For eg some celebrities will request to be booked in under a false name, or a phrase (eg 'Mister Anonymous', or 'James Higgins' etc). This way, things remain confidential as much as possible. Then, have the model meet you there, as opposed to trying to find each other in public, surrounded by paprazzi, making it quite obvious you are meeting a new date. The model can come directly to your room if you are on a non-security floor, or you can leave a key for her at the front desk, as your assistant or secretary.
For added protection, you might want to consider taking your date out of town. A vacation is always enjoyable, and even an overnight trip to  a nearby five star location can offer some level of protection. Many clients take a trip for a weekend or even a week to somewhere exotic and private. The model can arrive separately, and they all know how to maintain discretion and privacy when in public. A travel appointment will also be welcomed by your companion, as this minimizes any risk to both of you. But whether local or distant, rest assured your privacy and hers, are top priorities for all of us.
Mutual Confidentiality
It is worth bearing in mind that the beautiful women and models from these agencies also have the same desire for privacy as you. Particularly with an agency like Mynt, where many of the models are high end VIPs in their own right, accomplished in their careers, often with a public persona. Others are concerned with privacy for the sake of their companies, or families etc. Sadly, many people have incorrect preconceived ideas about the introduction and escort industry, so privacy is 100% required by most of our lovely models, just as much as it is for you!
We don't work with general or common ladies. All the Mynt women are from upper class backgrounds, with education, careers and reputations to be aware of an protect. They have families, relationships and futures, just like you, which require privacy within their personal lives. These are not the type of women who go out partying wildly, or for whom their conduct is irrelevant. They carry themselves with great elegance and awareness.
This is not about being inauthentic, but about protecting one's personal choices for one's personal life. One's personal life is strictly nobody's business but one's own. And this is solely due to the misconception of society. We all know that there is no difference between an upscale escort and a lady who dates in general – except that one receives an agreed payment, and one receives gifts. In fact some are lucky enough to receive both ;)  Both are free to choose with whom she spends her time, what she does with them, and when she leaves. We are not talking about backstreet cat houses, after all! At this level, one can barely even acquaint an agency like Mynt with the 'escort' industry. However, marketing being what it is… But I digress.
These first class ladies make themselves available to luxury dating with us for fun, or for the chance to be introduced to high quality gentlemen with a view to a future relationship. The girls also have their own reasons for wanting to protect their privacy, just like you. This issue is very important to us, and we take it seriously, as should you. Consider your own desire for privacy, and afford the models the same respect.
Confidentiality agreements work for everyone and are mutually beneficial. You can rest assured there will never be any disclosure of your personal details in any fashion, which would affect your reputation. Any accusation or suggestion of your conduct within our company would be met with the appropriate tasteful response of either silence, or "we've never heard of them".
Once you have established that your details and identity are 100% safe forever, you can book your dates with full confidence, and begin to enjoy the experience, as well as getting the most out of your engagements. Finding the right dating agency offers peace of mind, and you'll soon be able to experience luxury introductions as you should. Contact Mynt Models agency now to assess our privacy practices and begin enjoying dating as it was meant to be; an exchange of positive, beautiful energy and luxury quality companionship, with complete peace of mind.