Welcome to the Stage of the World.
Nestled amidst the scenic Salzach River and the majestic Alps, Salzburg stands as a remarkable jewel among Europe's captivating cities. The city is blessed with cultural splendor, Baroque architecture, and a thriving gastronomic scene.
But what makes Salzburg truly magical is the fact that it's Mozart's birthplace. And with "The Sound of Music" set among the plains and Alps of Salzburg, it's truly an adored destination for music lovers.
We have curated an exceptional list of unparalleled destinations that await you in Salzburg so you and your Mynt Models discreet travel escort can enjoy the city to the fullest. 
Old Town

(Altstadt)
A journey through Salzburg's Old Town unveils a delightful fusion of Austria's finest elements encapsulated within a charming and picturesque UNESCO World Heritage Site.
1. Wander through Winding Alleys
An abundance of narrow, cobblestone streets seamlessly blends into renowned squares adorned with centuries-old buildings. Unbeknownst to many, this captivating scenery showcases architectural marvels spanning the Middle Ages, Romanesque, Baroque, and Renaissance eras.
2. Discover Charming Squares
Lose yourself in the labyrinthine alleys and find famous squares: Residenplatz is adorned with magnificent baroque fountains and the exquisite Salzburg Residenz Palace while Mozartplatz is named after the city's prodigious composer. There's also Kapitelplatz with a golden art installation called "Sphaera", accompanied by a man perched on top.
3. Soak in the Architectural Splendor
Prepare to be awe-struck by the architectural masterpieces you and your upscale travel escort will discover scattered throughout Old Town. 
Salzburg Cathedral.

Marvel at the resplendent Salzburg Cathedral, a true gem showcasing the harmonious fusion of Baroque and Gothic styles. As you step inside, be enchanted by the tranquil ambiance and the awe-inspiring beauty of its ornate chapels and a magnificent organ.
St. Peter's Abbey.

Explore the abbey's remarkable cemetery, a serene and picturesque resting place that has inspired countless artists. Don't miss the chance to dine at

Europe's oldest restaurant

, nestled within the abbey's walls, offering a unique culinary experience in a truly historic setting.
Regal Castles
The city is steeped in royal charm and captivating history.  These architectural wonders not only offer a glimpse into the past but also provide the perfect backdrop for a romantic date with a beautiful celebrity escort date.
What to See and Do
This iconic fortress, perched atop a hill, stands as a symbol of Salzburg's rich history and strategic importance. Explore its medieval chambers,  wander through its courtyards, and visit the fascinating museums housed within its walls. 
This romantic Baroque architectural setting provides the perfect backdrop for a leisurely walk and heartfelt conversation. Stroll hand in hand through the meticulously manicured gardens, adorned with fountains, sculptures, and vibrant flower beds. 
The whimsical charm of Hellbrunn Palace, a masterpiece of architectural ingenuity, has been a draw for tourists for decades. Explore the palace's intricate trick fountains, which surprise and delight visitors with their playful water features. Take a leisurely stroll through the palace grounds, adorned with serene gardens and hidden grottos.
With artistic legacy and fascinating history being the core of Salzburg's fame throughout the world, a visit to a well-cultured courtesan in its many museums is simply unquestionable.
What to See and Do
Museum der Moderne.

Located atop Mönchsberg mountain, The Museum of Modern Art is filled with contemporary pieces and ever-changing exhibits. Engage in stimulating conversations with your elite escort as you admire thought-provoking pieces and explore the museum's expansive collection of today's artistry.
Mozarts Geburtshaus.

If you and your beautiful companion share the same love for music, then Mozart's birthplace is a must-visit destination. Explore the rooms where Mozart spent his formative years and gain insight into his extraordinary musical genius together.
Salzburg Museum.

Artistry and cultural history are what await you at Salzburg Museum. Uncover the city's captivating past through immersive exhibits, multimedia displays, and engaging storytelling. Discover archaeological treasures, historical artifacts, and artwork that showcase the evolution of Salzburg over the centuries.
The Parks, Gardens, and Nature
With so much architectural grandeur overlooking the city, Salzburg often goes unnoticed as a city abundant with lush expanses.
From lavishly adorned parks created by pleasure-seeking archbishops to the densely wooded hills that tower over the city, Salzburg is a place that celebrates the joys of outdoor living.

What to See and Do
Mirabell Gardens.

This Baroque palace, which was once a royal residence, now serves as the location for government offices. However, its true allure is the meticulously manicured gardens adorned with vibrant flowers. Mirabell Gardens is where the von Trapp children melodiously performed "Do-Re-Mi" in the iconic movie "The Sound of Music." 

Hellbrunn Palace Park.

Immerse yourself in the whimsical charm of Hellbrunn Palace Park, a place where nature and trickster artistry intertwine. Designed as a retreat for Prince-Archbishop Markus Sittikus in the 17th century, the park showcases his penchant for whimsical humor through the Wasserspiele, a collection of playful fountains that delighted in dousing unsuspecting guests. 
Hans-Donnenberg Park.

Tucked discreetly behind Hohensalzburg Hill, the Hans-Donnenberg Park remains one of Salzburg's most well-preserved treasures. With its undulating meadows and untamed woodland far from the bustling tourist paths, it offers an idyllic sanctuary for moments of tranquility and reflection.
Where to Wine and Dine
Indulge in the flavors of Salzburg's traditional cuisine, renowned for its hearty and comforting dishes. There's no finer way to immerse yourself in the city than by savoring its culinary offerings
Salzburger Nockerl.

A light and fluffy soufflé dessert, traditionally served with powdered sugar and raspberry sauce.

Mozartkugel

. Iconic chocolate-covered marzipan and nougat confections pay homage to Wolfgang Amadeus Mozart.

Tafelspitz

. Classic Austrian dish of tender boiled beef, served with a flavorful broth, horseradish, and traditional sides like apple-horseradish sauce and rosti potatoes.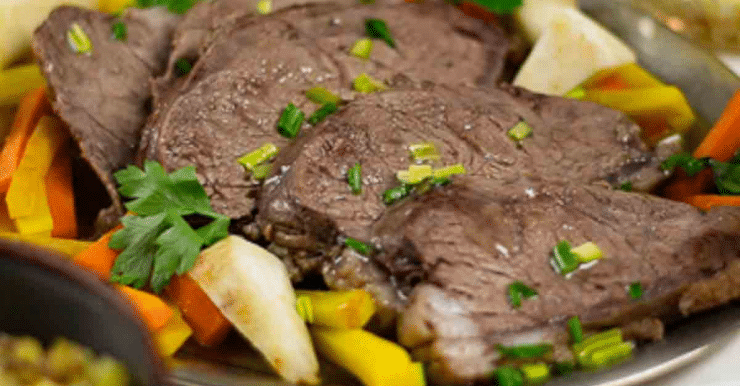 When it comes to exceptional dining experiences in Salzburg, there is an abundance of exquisite restaurants to choose from. 
Indulge in a lavish dining experience at Casino Restaurant Salzburg, where gourmet cuisine meets the thrill of gaming. After a delightful meal prepared by expert chefs, try your luck at the casino together with your exquisite model escort, adding an element of excitement to your evening of fine dining.
Relish a feast for both the eyes and the palate as you indulge in masterfully prepared dishes amidst a stunning glass-enclosed setting in The Glass Garden. Enhance the experience with your exquisite companion by sharing an intimate candlelit dinner date, allowing the magical surroundings to elevate your romantic encounter.
This Michelin-starred restaurant is called just that, esszimmer or dining room since anything beyond that would be unnecessary, as acclaimed chef Andreas Kaiblinger believed. The true excitement is in the magic of the cooking pot, experienced by diners in their seats. Delight in the symphony of flavors meticulously crafted by the talented chef and savor each course for an unforgettable dining experience that will leave you and your date in awe.
Embark on an extraordinary evening in Salzburg, as the city unveils its vibrant nightlife scene. Explore these luxury bars that offer an unforgettable experience for you and your discreet social courtesan.
Goldener Hirsch Bar.

Immerse yourself in the timeless elegance of Goldener Hirsch Bar, located within the esteemed

hotel

of the same name. Indulge in meticulously crafted, handcrafted cocktails, expertly mixed by talented bartenders. 
The Salzburg Whiskey Museum.

A captivating journey into the world of whiskey awaits at this whiskey museum housing an extensive collection of whiskeys from all over the world. Engage in guided tastings led by knowledgeable experts, who will share fascinating insights into the art of whiskey-making, and savor the distinct flavors in exquisite company.
Sky Bar.

Elevate your evening at the Sky Bar, on the 6th heaven of

Imlauer Hotel Pitter

, offering breathtaking panoramic views of the enchanting city of Salzburg. Indulge in signature cocktails meticulously crafted by skilled mixologists and share an extraordinary experience with your companion as you toast to memorable moments together.
Luxurious Shopping
Shopping makes up a good chunk of any opulent travel escapade. Indulge in a world of luxury shopping in Salzburg, where renowned brands and exquisite boutiques await. These must-visit shopping destinations will satisfy even the most discerning tastes:
Getreidegasse.

Wander through the historic Getreidegasse with your

elite courtesan

, known for its charming narrow lanes filled with high-end fashion boutiques, jewelry stores, and upscale shops.
Europark Salzburg.

Explore Europark Salzburg, a premier shopping mall featuring a vast selection of international luxury brands and designer labels, and gourmet food options.

Linzergasse.

Immerse yourself in the ambiance of Linzergasse, a picturesque street lined with stylish shops, art galleries, and cozy cafes. Find unique treasures and

exquisite gifts

along this enchanting shopping district.
Any thoughtful gentleman comprehends that entering these boutiques is a splendid treat for your captivating travel companion. 

Mynt Models: The Preferred Escort Agency for Exclusive Luxury and Companionship Services in Salzburg
At Mynt Models, our commitment lies in delivering the highest caliber companionship and luxury travel services to our discerning clients. 
 With three decades of unparalleled encounters, we have solidified our reputation for providing exceptional experiences that are meticulously crafted to suit the unique taste and preferences of each gentleman. We are the foremost choice for those seeking a wonderful holiday in Austria.
Don't wait any longer. Contact us today so that we can find the ideal elite escort in Salzburg that will make your trip simply unforgettable.