Welcome to the Billionaire's Playground.
This breathtaking royal city on the French Riviera is renowned for its luxurious architecture, vibrant culture, and captivating atmosphere. 
Almost every corner of Monaco exudes opulence, from the grand palaces and charming streets to the world-class casinos and prestigious events that grace its calendar. Prepare to immerse yourself in a world of beauty, glamor, and unforgettable experiences.
Blessed with sublime natural splendor, Monaco boasts the lush greenery and delightful Mediterranean climate that characterize this coastal region.
Mynt Models takes pride in presenting a handpicked compilation of the city's most exclusive and highly coveted destinations, ensuring that our esteemed clients and their GFE dates indulge in the absolute best that the city-state of Monaco has to offer.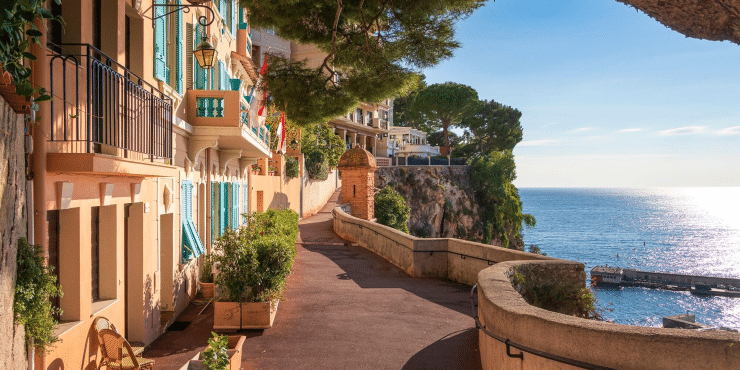 Monaco-Ville, also known as "Le Rocher," is the historic old town of Monaco. Nestled on a rocky outcrop, it exudes a captivating medieval charm and offers a delightful blend of history, culture, and panoramic views of the Mediterranean Sea. 
What to See and Do
1. Enjoy a Stroll along Le Rocher
Take a leisurely walk through the narrow cobblestone streets of Monaco-Ville, lined with charming boutiques, art galleries, and cozy cafés. Explore the hidden corners and picturesque squares as you soak in the medieval ambiance.
Don't miss the breathtaking panoramic views of the Mediterranean Sea from various viewpoints, providing the perfect backdrop for a romantic and memorable moment with your elite escort companion.
Perched majestically on the scenic peninsula of Le Rocher, the Prince's Palace occupies a distinctive vantage point above the sea. It serves as the residence of the world's oldest monarchy, lending an air of historic grandeur to this iconic landmark.
What to See and Do
1. Explore the Grand State Apartments
Step into the opulent world of royalty as you wander through the magnificent Grand State Apartments. Admire the lavish furnishings, intricate decorations, and stunning artwork that adorn these regal chambers. From grand ballrooms to elegant salons, each room tells a story of Monaco's rich history and aristocratic heritage.
2. Witness the Changing of the Guards Ceremony
The time-honored tradition of Changing of the Guard Ceremony is a celebrated event where palace guards display pomp and precision as they carry out their ceremonial duties This captivating spectacle, accompanied by stirring music, adds a touch of regal splendor to your visit and offers a glimpse into Monaco's royal traditions.

The renowned Monte Carlo Casino is a legendary establishment synonymous with luxury and indulgence. Established in 1863, it has been featured in numerous films, novels, and works of art, cementing its status as a global symbol of sophistication and high-stakes entertainment.
What to See and Do
1. Try Your Luck at the Gaming Tables
Immerse yourself in the thrilling atmosphere as you try your hand at the various gaming tables available at the casino. Whether it's poker, blackjack, roulette, or baccarat, you can experience the exhilaration of high-stakes gambling while surrounded by the opulent surroundings that have attracted the world's elite for centuries.
2. Simply  Revel in the Opulent Ambiance
Even if gambling isn't your forte, you can still soak up the sheer elegance and opulence of the Monte Carlo Casino with your high-end courtesan date. Stroll through the exquisite halls adorned with crystal chandeliers, intricate artwork, and lavish décor. Marvel at the architectural grandeur while enjoying a drink at one of the casino's stylish bars, or simply bask in the atmosphere that has captivated the affluent crowd for generations.
This beautiful stretch of shoreline offers golden sands, crystal-clear waters, and a range of amenities for visitors to enjoy.
While Monaco may not have an extensive coastline with multiple beaches, it compensates for this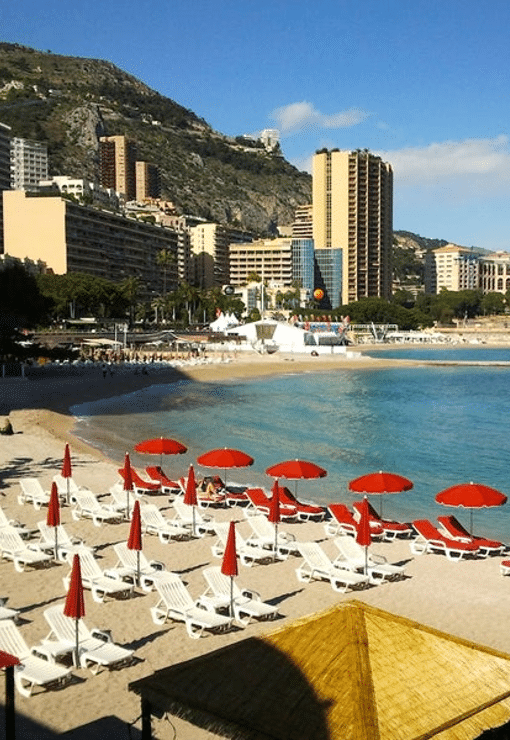 with its luxurious beach clubs and private seaside establishments. 
What to See and Do
1. Soak Up the Mediterranean Sun.
Though limited in expanse, there's enough room for an intimate and unforgettable experience with your beautiful travel companion. Lay down the beach towels and immerse yourselves in the warm embrace of the Mediterranean sun.
2. Take a Refreshing Dip.
With crystal clear waters and a range of water sports activities you can enjoy, your time at Larvotto Beach will surely wash away your stresses, leaving you feeling revitalized and invigorated. From jet skiing and paddleboarding to snorkeling and sailing, the options are abundant, allowing you to create cherished memories filled with laughter and excitement.
3. Treat Yourself to Delectable Seafood.
After working up an appetite from your beachside activities, indulge in the culinary delights offered by the charming beachside restaurants. Sit back and relax as you savor the delectable flavors of fresh seafood dishes, expertly prepared by talented chefs. As you enjoy your meal, take in the picturesque coastal views that surround you, providing the perfect backdrop for a romantic and intimate dining experience.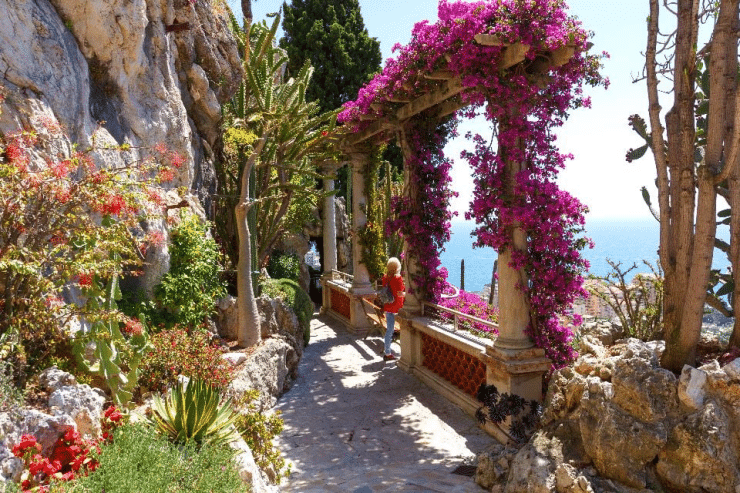 Monaco's Parks and Gardens
These lush green spaces provide a serene sanctuary where visitors can escape the bustling city and immerse themselves in nature's beauty. 
What to See and Do
Exotic Garden and Cave.

Situated on a picturesque cliffside, this garden offers breathtaking panoramic views of the Mediterranean Sea and the Principality of Monaco. As you wander through the terraced pathways, you'll encounter a remarkable variety of cacti, agave, and other unique plant species, beautifully arranged to create a mesmerizing display of colors and textures.

The Cave.

One of the highlights of the Exotic Garden is the Observatory Cave, a remarkable underground grotto that adds an extra layer of intrigue to the experience. Descend into this fascinating subterranean world and marvel at the intricate rock formations, stalactites, and stalagmites that have been shaped by nature over millions of years. 
Princess Antoinette Park

. Nestled in the heart of Monaco, it is a verdant oasis characterized by lush greenery, serene ponds, and captivating sculptures. This picturesque park invites visitors to indulge in a romantic stroll, enjoying the tranquil ambiance and the company of their enchanting Mynt Models

travel girlfriend

.
Japanese Garden

. Transport yourself to a serene oasis with a visit to Monaco's

Japanese Garden

. Here you will find tranquil surroundings, featuring traditional Japanese landscaping with koi ponds, cherry blossom trees, and charming wooden bridges. This harmonious garden offers a peaceful escape, allowing you and your premium company to find serenity amidst the busy city.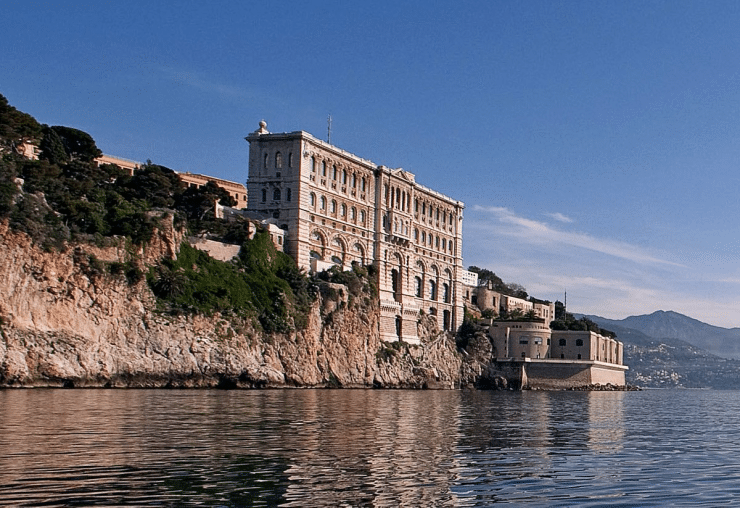 Museums in Monaco
Whether you're interested in history, contemporary art, or marine biology, these museums provide immersive experiences that combine education, entertainment, and aesthetic pleasure-perfect for a stimulating conversation with an intelligent and high-class escort date.
What to See and Do
Monaco National Museum.

The museum houses an impressive collection of artifacts and artworks that showcase the traditions, customs, and heritage of the Principality. Wander through the ornate interiors of the Palais de Monaco, where the museum is located, and allow the beauty and artistry to inspire wonderful conversations. This can help you deepen your connection as you appreciate the rich heritage of Monaco together. 
Villa Sauber – Nouveau Musée National de Monaco

. This magnificent Belle Époque villa provides an exquisite backdrop for thought-provoking exhibitions of contemporary artworks. Marvel at the innovative and visionary creations of renowned artists as you explore the beautifully curated displays within the villa's elegant spaces.
Musée Océanographique.

Located on a cliff overlooking the Mediterranean Sea, the Musée Océanographique is a true gem for marine enthusiasts and nature lovers. Immerse yourself in the wonders of the deep sea as you admire colorful fish, delicate coral reefs, and majestic marine creatures. The museum's stunning architecture is an attraction in itself, adding to the allure of this oceanographic marvel.
Where to Wine and Dine
Indulge in the culinary delights of traditional Monaco cuisine, known for its exquisite flavors and elegant presentation.
Barbagiuan.

A savory pastry filled with Swiss chard, spinach, ricotta cheese, and herbs. The crispy golden crust encases a burst of flavors, making it a perfect appetizer.

Socca.

This popular street food is made from chickpea flour, olive oil, and a sprinkle of salt. This thin, crispy pancake-like dish is often enjoyed as a snack or accompaniment to a meal.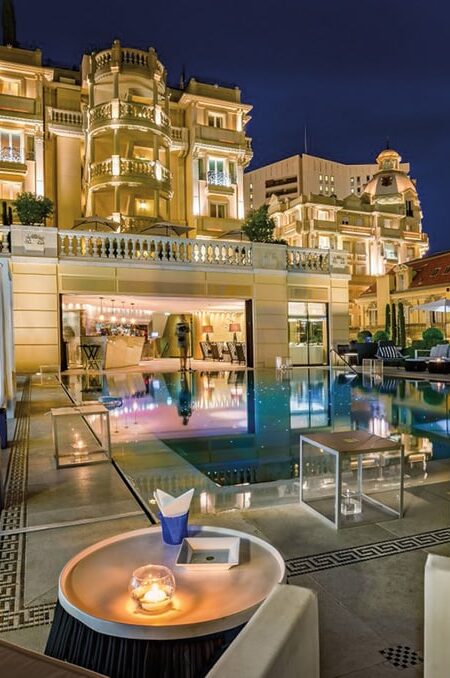 When it comes to fine dining in Monaco, there's no shortage of exquisite restaurants.
Located in the iconic Hôtel de Paris, this three-Michelin-starred restaurant boasts exquisite Mediterranean cuisine crafted by renowned chef Alain Ducasse. Indulge in a gastronomic journey accompanied by impeccable service and an elegant ambiance, making it a perfect choice for a memorable dinning experience with your enchanting companion.
Experience the culinary artistry of the late chef Joël Robuchon at this two-Michelin-starred restaurant. With its contemporary decor and refined atmosphere, it offers a superb dining experience featuring Robuchon's signature dishes, highlighting the finest ingredients and culinary techniques. Enjoy an intimate and sophisticated dinner with your beautiful escort, savoring every moment and every bite.
Situated within the renowned Hôtel Hermitage, Le Vistamar holds a Michelin star and offers a delightful fusion of Mediterranean and Japanese flavors. Immerse yourself in an elegant setting with panoramic sea views as you savor innovative and beautifully presented dishes. 
Nightlife
Experience the allure of Monaco's nightlife, accompanied by your stunning courtesan.
This lavish bar offers an exquisite blend of Asian-inspired cocktails, tantalizing cuisine, and an enchanting atmosphere. Enjoy a captivating night out with your companion, surrounded by exotic decor, soothing music, and an air of sophistication.
With its classic decor, live music, and extensive selection of fine wines and spirits, it provides a luxurious setting to unwind and enjoy intimate conversations. Delight in the company of your enchanting escort as you savor exquisite drinks and immerse yourselves in the glamorous ambiance.
Known for its vibrant atmosphere and celebrity clientele, Sass Café is a renowned destination for a memorable night out in Monaco. Enjoy live music performances, indulge in delectable cuisine, and dance the night away in style. 
Deluxe Shopping
Shopping is an essential element of any extravagant travel journey. And Monaco is synonymous with it, offering an array of high-end boutiques and designer brands.
Avenue Princess Grace.

This elegant avenue showcases some of the world's most prestigious fashion houses, featuring renowned designers and luxury brands. Explore the boutiques and admire the latest fashion trends with your elite

courtesan

by your side. The glamorous atmosphere and exclusive offerings make it a perfect place to find

exquisite gifts

or indulge in a shopping spree.
Le Métropole Shopping Center.

Located in the heart of Monte Carlo, Le Métropole is a premier shopping destination boasting a curated selection of high-end fashion, jewelry, and lifestyle brands. Spoil your

escort

date with a

special gift

or simply enjoy the pleasure of exploring the finest offerings together.
Carre d'Or.

Situated in the prestigious Golden Square, Carre d'Or is a haven for luxury shopping enthusiasts.

From designer clothing and accessories to exquisite timepieces and sparkling gems, Carre d'Or offers a captivating shopping experience.
Every considerate gentleman recognizes that exploring these boutiques is a wonderful indulgence for your enchanting travel partner. 
Mynt Models: Your Go-To Bespoke Luxury and Companionship Service in Monaco
At Mynt Models, we are your personal VIP concierge dedicated to providing our esteemed clients with the most exceptional companionship and luxury travel services in the industry.
With a rich history spanning three decades, we have gained a reputation for offering tasteful experiences that are carefully tailored to cater to the distinct needs and preferences of every client. Our experience and commitment to quality make us the top choice for those seeking a truly exceptional experience on the French Riviera.
Contact us for your appointment and we'll ensure that you are introduced to your desired elite companion in Monaco.