Welcome to the breathtaking French Riviera.
With its sun-kissed weather and picturesque Mediterranean landscapes, the enchanting city of Nice looks like it's been plucked straight out of a pastel painting. Nestled between the tranquil blue waters of the Baie des Anges and the protective foothills of the Maritime Alps, Nice boasts a mild climate all year long. 
If Impressionist painters have been captivated by this beautiful city, then it's no wonder if you and your travel companion in Nice end up adoring the Lure of the South.
With stunning beaches, picturesque villages, and ancient Roman ruins, there's just so much to see and visit in Nice that the list seems endless. We at Mynt Models have curated a list of the most exclusive and sought-after destinations in the city, to ensure our gentlemen and their GFE date don't miss out on the best experiences that Nice has to offer.
Old Town (Vieille Ville)
Nestled at the heart of the city, the Old Town is a vibrant and historic neighborhood that dates back to the 17th century. This colorful quarter is famous for its maze-like narrow alleyways, traditional markets, and picturesque architecture that captures the essence of the Mediterranean lifestyle.
What to See and Do
1. Explore the Cours Saleya Market
With an array of local produce, spices, and crafts on display, the Cours Saleya Market is the perfect place to discover the flavors and aromas of the French Riviera.
Take your luxury travel companion on a sensory adventure through the market, sampling local delicacies and discovering new flavors together. You could even pick up some fresh ingredients to cook a romantic dinner later on.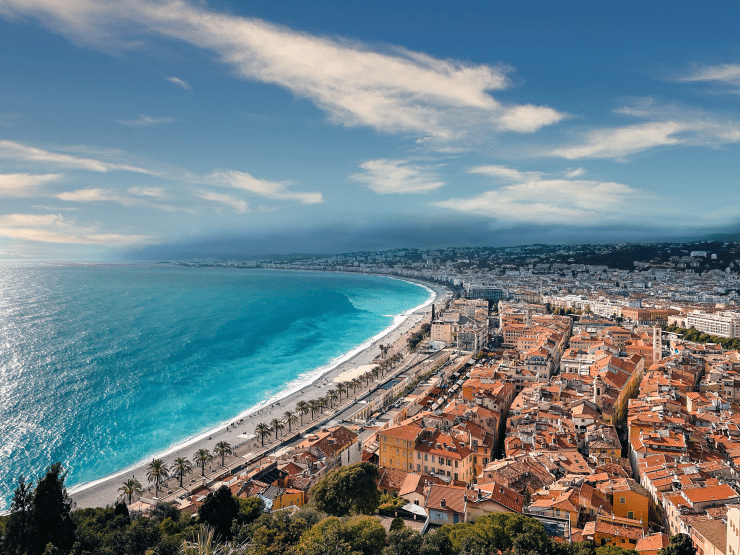 Promenade des Anglais
Stretching for over 7 kilometers along the beachfront, the Promenade des Anglais is an iconic promenade lined with luxurious hotels offering breathtaking views of the Mediterranean Sea.
What to See and Do
1. Stroll along the Promenade
Take a leisurely walk along the Promenade des Anglais, enjoying the sea views and soaking up the Mediterranean sun. With palm trees swaying in the breeze and crystal-clear waters lapping at the shore, it's a romantic setting for a stroll with your VIP travel date.
2. Visit the Negresco Hotel
This historic hotel is a landmark of the Promenade des Anglais, with its pink dome and Belle Epoque architecture. Take a guided tour of the hotel's opulent interior, or enjoy a drink at the Bar Le Relais. The Negresco Hotel is the perfect spot for a glamorous evening out with your date.
3. Sunbathe on the Beach
The Promenade des Anglais is famous for its long stretch of pebble beach, where locals and tourists alike come to soak up the sun. Rent a beach umbrella and lounge chair, or spread out a blanket on the warm sand. The beach is the perfect spot to relax with your date and enjoy the Mediterranean scenery.
Castle Hill (Colline du Château)
No vacation to Nice would be complete without a visit to Colline du Château. The hill offers stunning panoramic views of the city and the Mediterranean Sea, as well as the ruins of an 11th-century castle and a beautiful waterfall.
What to See and Do
1. Explore the Ruins
The ruins of the castle on the hilltop are a fascinating glimpse into Nice's medieval past. Walk among the ancient walls and towers, and imagine what life was like for the people who once called the castle home.
2. See the Waterfall
The stunning waterfall on Castle Hill is a peaceful oasis in the heart of the city. Take a break from sightseeing and enjoy the cool mist and the sound of rushing water.
2. Enjoy a Candlelit Dinner
There are plenty of restaurants near Castle Hill with lovely views and delicious food. Book a table for two and enjoy a romantic dinner with your elite travel escort.
Monastère Notre-Dame-de-Cimiez
Perched on a hill overlooking the city, Monastère Notre-Dame-de-Cimiez is a peaceful oasis that transports you back in time. With its ornate Gothic architecture and stunning frescoes, this historic monastery is a sight to behold. The tranquil gardens and breathtaking views of the city make it the perfect escape from the hustle and bustle of Nice.
What to See and Do
1. Visit the monastery museum
Learn about the history of the monastery and the region at the museum. With beautiful religious art and artifacts on display, it's a must-visit for history buffs. You and your educated travel companion can stroll through the museum and discuss the artwork and history together.
2. Attend a concert
The monastery hosts a variety of concerts and events throughout the year, featuring everything from classical music to jazz. Check the schedule and plan a special evening with your sophisticated escort. You can enjoy the beautiful music and the stunning architecture of the monastery together.
Museums in Nice
Cultural immersion is imperative to an authentic experience in the South of France. Nice boasts a rich selection of museums for you and your lovely companion to explore.
The Matisse Museum is a must-visit for lovers of modern art, featuring a stunning collection of works by the legendary French painter Henri Matisse. Meanwhile, the Museum of Modern and Contemporary Art (MAMAC) offers an extensive collection of contemporary art and often hosts exciting temporary exhibitions.
In addition to these two museums, Nice has a wealth of other options for art and culture enthusiasts.
Musée des Beaux-Arts Jules Chéret

– Showcases a broad range of art from the 16th to the 20th century, with a particular emphasis on the French Riviera's local art scene.
Where to Wine and Dine
What better way to take in the city is through its cuisine? And when it comes to Nice, there is no shortage of fine dining and culinary delights to discover. From fresh seafood to savory stews and delicate pastries, the traditional Nicoise cuisine is a true feast for the senses. 
Traditional Nicoise Cuisine
For a taste of the traditional Nicoise cuisine, head to a local bistro or brasserie and indulge in some of the city's signature dishes, such as pissaladière (a savory onion tart), salade Niçoise (a salad of tuna, olives, and vegetables), and socca (a thin, crispy pancake made from chickpea flour).
This charming bistro is a hidden gem in the heart of Nice, offering traditional Provencal cuisine with a modern twist. The menu features seasonal and locally sourced ingredients, including plenty of fresh herbs and vegetables, as well as classic dishes like ratatouille and bouillabaisse. The cozy indoor dining room and sunny outdoor terrace both provide a welcoming atmosphere for a leisurely lunch or romantic dinner.
For a truly indulgent dining experience, head to Les Epicuriens, a Michelin-starred restaurant in Nice's Old Town. The menu showcases the finest local and regional ingredients, expertly prepared and presented in elegant dishes that are as beautiful as they are delicious. The restaurant's chic decor and impeccable service create a sophisticated ambiance that's perfect for a special occasion or a memorable night out.
Located in the charming neighborhood of Cimiez, Lou Pantail is a cozy and inviting restaurant that specializes in seafood and Mediterranean cuisine. The menu features fresh, locally caught fish and shellfish, as well as classic dishes like bouillabaisse and octopus salad. The rustic decor and friendly service make this spot a popular choice for a relaxed lunch or casual dinner.
Don't forget the wine
Bordeaux isn't the only wine city in France. With its rich history of winemaking, the region boasts some of the best wines in the world.
For wine aficionados, a visit to one of the many vineyards in the surrounding countryside is a must. Here, you can sample some of the region's famous wines, such as Bellet and Côtes de Provence, and learn about the history and culture of winemaking in the area.
Finish with a dessert
When it comes to dessert, Nice is known for its delicious pastries and sweets. Your travel companion will surely love to indulge in some of the local specialties, such as tarte Tropezienne (a creamy, custard-filled pastry) and pan bagnat (a sandwich made with local ingredients).
The Beaches
The beautiful coastline of the French Riviera is known for its crystal-clear waters, soft sands, and breathtaking views. Charter a yacht and enjoy a dip or simply indulge in the beach's beauty from the sandy shores.

La Réserve is a small, hidden public beach located in the eastern part of the Nice port area and is a popular spot among locals. Despite its small size, the beach's seclusion from the main stretch of Nice Town gives it a calm and intimate ambiance, which is perfect for a peaceful day by the sea with your celebrity travel escort.
This charming seaside town located just a few kilometers east of Nice offers a rarity in the whole French Riviera: a sandy beach!
Villefranche Plage is a classic gem of a beach that offers ample space to relax and soak up the sun without pebbles. You and your elite travel date can indulge in warm waters, watch oiled-up sun-worshippers, and satisfy your hunger with a variety of sumptuous restaurants and ice cream stalls. 
This well-known private beach is located at the base of the Old Town in Nice, and it is the largest beach on the French Riviera, with luxurious five-star amenities. The two of you can indulge in fine dining at the gourmet restaurant located just a few feet away from the shore, enjoy a drink at the stylish lounge bar, or simply relax on one of the comfortable striped lounges for a peaceful nap together.
Niçoise Nightlife
When it comes to Niçoise nightlife, the options are endless. Whether you want to sip on cocktails in a chic bar or dance the night away in a high-energy club, Nice has something for everyone. Here are some of the top nightlife experiences in the city:
Old Town Bars and Clubs
 The Old Town is a hub of nightlife activity in Nice, with countless bars and clubs to explore. Head to Rue de la Préfecture for a lively atmosphere, or wander through the narrow streets to discover hidden gems.
Promenade des Anglais Casinos
If you're feeling lucky, check out one of the casinos along the Promenade des Anglais. Try your hand at poker or roulette, or simply soak up the glamorous atmosphere.
 Rooftop Bars
For stunning views and sophisticated drinks, head to one of the many rooftop bars in Nice. Enjoy a sunset cocktail while taking in panoramic views of the city and the Mediterranean Sea.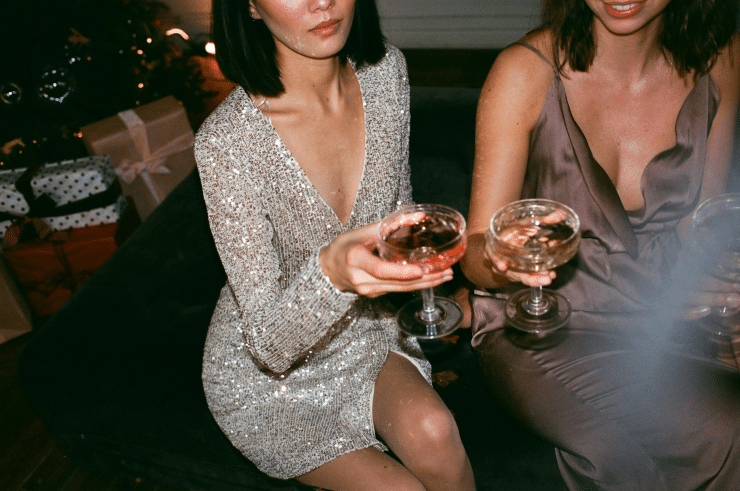 Splendid Shopping
As your premier luxury travel concierge, we know that shopping is a key part of any high-end travel experience. In Nice, you'll find no shortage of chic boutiques and designer shops to peruse. Any generous gentleman knows that stepping into these boutiques is a treat to your beautiful travel escort.
Rue Paradis.

Known as one of the most luxurious shopping streets in Nice, Rue Paradis is lined with high-end boutiques and designer stores. It's the perfect place to find luxury

gifts

from brands like Chanel, Gucci, and Louis Vuitton.
The Nice Etoile.

This modern and spacious shopping center is located in the heart of Nice and features a wide range of shops and boutiques. You'll find everything from high-end fashion and accessories to electronics and home goods.
Promenade des Anglais.

Of course, no shopping excursion in Nice is complete without a stroll down the famous Promenade. It's home to a variety of shops and boutiques. You can find everything from beachwear and souvenirs to luxury fashion and jewelry along this iconic stretch of road.
Mynt Models: Your Preferred Bespoke Luxury
and Companionship Service in Nice
At Mynt Models® we pride ourselves on providing the highest quality companionship and luxury travel services to our esteemed clients.
While we are innately a personalized travel concierge service, we offer high-quality companionship to our tasteful clientele. With 30 years under our belt, we have built a reputation for offering unparalleled experiences that cater to the unique needs and preferences of each valued client. 
Our experience and commitment to quality make us the first choice for those seeking a truly exceptional experience in the French Riviera. Contact us today so we can match you with your ideal elite escort in Nice.