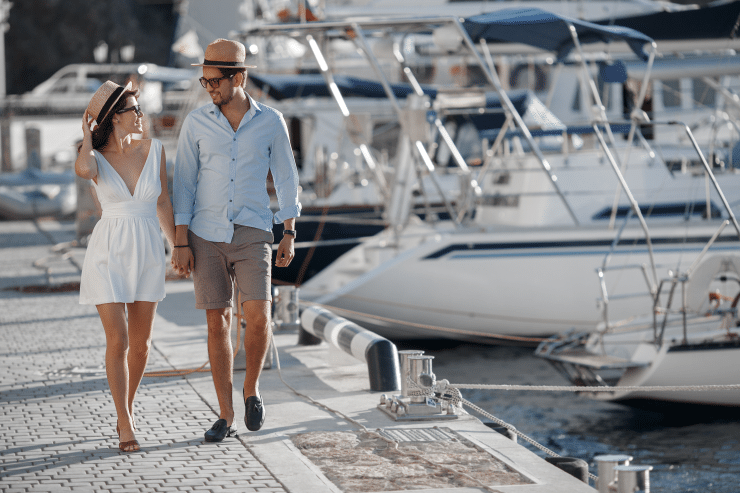 While solo travel can be exhilarating and liberating, it can also be lonely and overwhelming, turning what should be a fun trip into a less-than-desirable experience. That's why we at Mynt Models believe in the value of VIP travel companionship.
Explore why you need an elite travel companion and how they can elevate your travel experience to greater heights.
What is an elite travel companion?
An upscale travel companion is a lady who accompanies clients on their travels and provides personalized attention, engaging conversation, and tasteful company.
They are knowledgeable about the destinations they travel to and can offer insider tips and recommendations to make the trip more enjoyable for the gentleman they're accompanying.
Why Book a VIP Travel Companion
Booking an elite travel escort is the ultimate way to travel in luxury and wonderful company. 
Here are a few reasons why gentlemen should indulge in this traveling must-do.
1. Enhanced travel experience
Enhancing your travel experience with a female travel escort can be a fantastic way to add excitement and enjoyment to your trip. Instead of taking in the beauty of new places alone, why not take a stunning lady with you to elevate your personal and business travels?
2. Great company and conversation
Traveling with a sophisticated and intelligent travel companion can provide great company and conversation, adding a level of intellectual stimulation and cultural enrichment to your trip. The more well-versed in art, history, politics, and current events, the better!
3. Discreet and private dating
For jet setters who value privacy and discretion, booking a well-traveled model can provide a discreet and private dating experience. Whether for a vacation or a business trip, a discreet companion can be arranged to make sure you're never alone when you need a stunning, elegant dinner date.
Your travels in the company of beautiful upscale women can provide you with an unforgettable experience. However, with so many agencies out there, how do you ensure that you get the highest quality service and company?
The Mynt Models Luxury Travel Experience
Mynt Models is an exclusive luxury travel concierge and companionship service that caters to the most discerning A-list clientele.
We take pride in our ability to deliver the epitome of luxury, first-class service, and high-quality experiences. As your professional international travel agent, we have cultivated worldwide contacts and scoured the globe for exceptional vacation experiences that will leave you in awe.
Discover below how Mynt Models' elite escorts can make all the difference.
1. Experience the best of travel.
With a VIP travel companion by your side, you can expect to get the most value out of your trips by benefitting from any insider tips and recommendations we and the models have for you.
Mynt Models courtesans are knowledgeable about the destinations they travel to, and can offer you unique insights and experiences that you would otherwise completely miss out on. Our models love to take gentlemen somewhere new and exciting for a chance to indulge in their locale, or somewhere they know well.
From the best restaurants and lounges, to the most exciting activities and events, your companion will be able to guide you to the hidden gems that only locals and experienced travelers know about.
2. Personalized Attention and Companionship
One of the most significant advantages of booking a luxury VIP travel companion from Mynt Models is the opportunity to enjoy a personalized girlfriend experience during your travels. Personal attention can make all the difference to your day. 
Our VIP models are not only well-traveled but also skilled in the art of providing exceptional companionship. These intelligent beauties will offer engaging conversations and tasteful company to make your trip not only enjoyable, but superb.
You can enjoy romantic dinners, attend cultural events, or simply explore the city together, creating memorable experiences that will last a lifetime.
3. Discretion and Professionalism
We understand that privacy is of the utmost importance to our ultra-high net-worth clientele. That's why we pride ourselves on providing the highest level of discretion and professionalism when it comes to our VIP travel companion services. 
The Mynt Models travel escorts require just as much privacy in their affairs as you do, making it a mutually understandable arrangement. They know how to blend in seamlessly with any social situation and recognize the importance of maintaining a low profile when necessary.
In addition to our mutual non-disclosure agreement, you can be assured of exceptional privacy forever.
Whether you're traveling for business or pleasure, you can trust that our luxury VIP travel companions will provide discreet and professional service that will exceed your expectations.
Read more about our privacy policy.
Pack your bags and indulge
Why settle for a boring and lonely trip when you can indulge in the luxury level of experiences offered by Mynt Models? Our carefully selected companions are beautiful, intelligent, and accomplished, and they are eager to accompany you on your next adventure, wherever your next destination is.
Contact us today to start planning your luxurious travel experience. You deserve it!