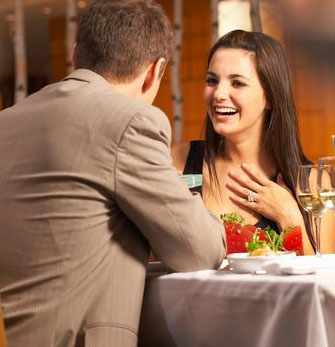 Candlelight dinners, sultry music, and gazing at the stars – romance is undoubtedly one of the most fulfilling elements of any companionship. A really romantic evening can help maintain a spark and strengthen a connection. Plan a special evening for you and your elite VIP dinner companion, and we'll assist you in making it magical.
Find out what she wants.
It's obvious – planning a date isn't always easy since it might take weeks and weeks of planning beforehand. But a little planning for the perfect date will be well worth the effort. If you find yourself in an unfamiliar town, do a little research on the best restaurants, and the best places to visit while on a date. Have a few choices up your sleeve to offer, so your lovely dinner date can also help with the decision. She'll feel touched that you consider her opinion, and made some effort.
Arrive smelling like a prince charming.
Make sure you take a thorough shower, shave or neaten your beard, and think about your appearance. If you're using a luxury dating agency like Mynt Models, you'll want to look like a luxury date! Use a nice cologne, too; ladies always like a gentleman who smells good.
Be a generous gentleman.
Think about other touches that will impress your elite escort dinner companion. You could hire a chauffeured car or even arrange a ride with a horse and carriage. Perhaps also consider booking the best table at the restaurant. Your elegant date will love that, and be very grateful. Don't forget to tell your date how beautiful she looks, too. Really notice her. She'll have put in a lot of effort to look good for you too! A little appreciation goes a long way with most  women.
Remember to enjoy yourself.
If the mood is right and you've done all you can to set up a romantic evening, relax and enjoy yourself as well. Your refined escort date will do her best to put you at ease and make the evening sparkle. So make the most of all the effort you've put in, and be sure to have a fantastic time.
The Date Doesn't End at Dinner.
Just because your meal is over doesn't mean the date has to finish. What about a romantic walk under the stars? A pleasant walk after a lovely meal is the perfect way to continue the perfect date. Or you could share a bottle of wonderful red wine or some cocktails together back at your hotel. Enjoy a laugh and some great conversation.
When the date finally does draw to a close, be sure to thank your beautiful escort companion date and tell her how much you enjoyed her company. Compliment her as much as you can. This will please her and remind her that you are definitely someone she'd like to meet again. (You can be sure she will have been doing her best for you to ensure a wonderfully special girlfriend experience or GFE.) A romantic evening just takes a little planning, but it will definitely be worth it.