Mynt Models does not offer full-time or by-the-hour escorts, but fresh, caring career women. Our minimum booking time is a proper date, giving you dinner til breakfast together. Read our guide here.
High-End VIP Escorts in Mykonos - Mynt Models
Schedule an appointment with us to get started.
Reach out to us

to obtain exclusive access to the private area, which houses comprehensive profiles of all our lovely models.
Welcome to Mynt Models – Your Choice of Elite Companions in Mykonos
Cycladic architectural marvels, luxurious accommodations, and vibrant nightlife, Mykonos is indeed a wonder to behold. Greece's most popular destination boasts everything that comprises an ideal holiday. What's more perfect than Mediterranean weather and the most stunning stretches of the beach?

Perhaps the company of an equally enchanting top model escort by your side! Mynt Models has exciting things in store for a lovely gentleman like you. Allow Mynt to treat you to an unforgettable time in the island of Mykonos.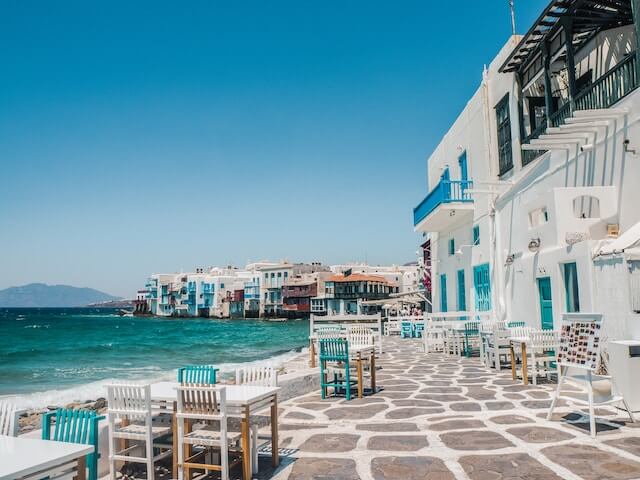 Discover Potential Matches among Mynt Model's Luxury Companions in Mykonos
You deserve the best, And for the most discerning gentleman, we offer a refined selection of genuinely high-end GFE models for Greece and worldwide.
Meet our Selection of Luxury VIP Models & Travel Companions
We offer three tiers of premium companions to help you find the ideal experience for private, discreet, and high-quality services.
Our Platinum-level VIP escort models meet our minimum requirements for excellence, and possess that little something extra. Expect quality and charm.
Diamond-level VIP escort courtesans are a step above, some of the most luxurious female companions in the world.
First class in beauty, sophistication, and social status. Our Red Diamond companions are the most elite companions available.
Professional Companionship & Escort Services in Mykonos
With over 30 years under our belt, Mynt Models holds a high distinction when it comes to VIP escorts, models, and courtesans in the Greek island of Mykonos. You can be certain that only the most exquisite and refined women will accompany you on your travels.
Our intelligent and beautiful luxury escorts provide an unmatched girlfriend experience that will make your dream date a reality. We cater only to the most courteous, respectful, and generous gentlemen for mutually enjoyable companionship experiences.
Discover the contrast between Mykonos's beautiful beaches and exciting nightlife with an accomplished travel escort. Allow Mynt Models to treat you to a truly luxurious experience in Mykonos.
Why You Should Be Part of Mynt Models Exclusive VIP Club in Mykonos
As you browse through our selection for your ideal travel companion, we also offer the opportunity to apply for Membership in our exclusive VIP club. Preferred membership is exclusively extended by application to our current clients. You do not need to be a Member to meet our models. 

Non-Members can be granted access to more models, with full profile details available, upon verification. Once a preferred Member, you will be granted access to higher profile and Members-only models, and enjoy other premium benefits like reduced fees.
1. We Value Your Privacy and Discretion
The protection of your absolute privacy is one of our top priorities. We endure that both models and gentlemen can enjoy each other's delightful company without any concerns.

If you're looking for the perfect date for an enjoyable time in Mykonos, consider our discreet, exclusive Mykonos companions
2. The Most Elegant Courtesans in Mykonos
Our Mykonos companionship services are designed to cater to the most discerning clients who deserve nothing but the best. Each applicant undergoes a rigorous selection process so we can select only the most refined and exquisite ladies. Only a fraction of applicants are successfully invited to join us. Women whose beauty, intelligence, and exceptional social skills meet our high, exacting standards.
3. Professional Matchmaking and Discreet GFE Dating
Whether it's a lovely lady companion for a business event, a female VIP escort for a romantic dinner date, or a top model companion for an exciting weekend traveling out of town, our Mykonos escorts are ready to accompany you.

Rely on our excellent reputation to provide the perfect match, who will supersede your expectations. Rest assured, your privacy is imperative to us.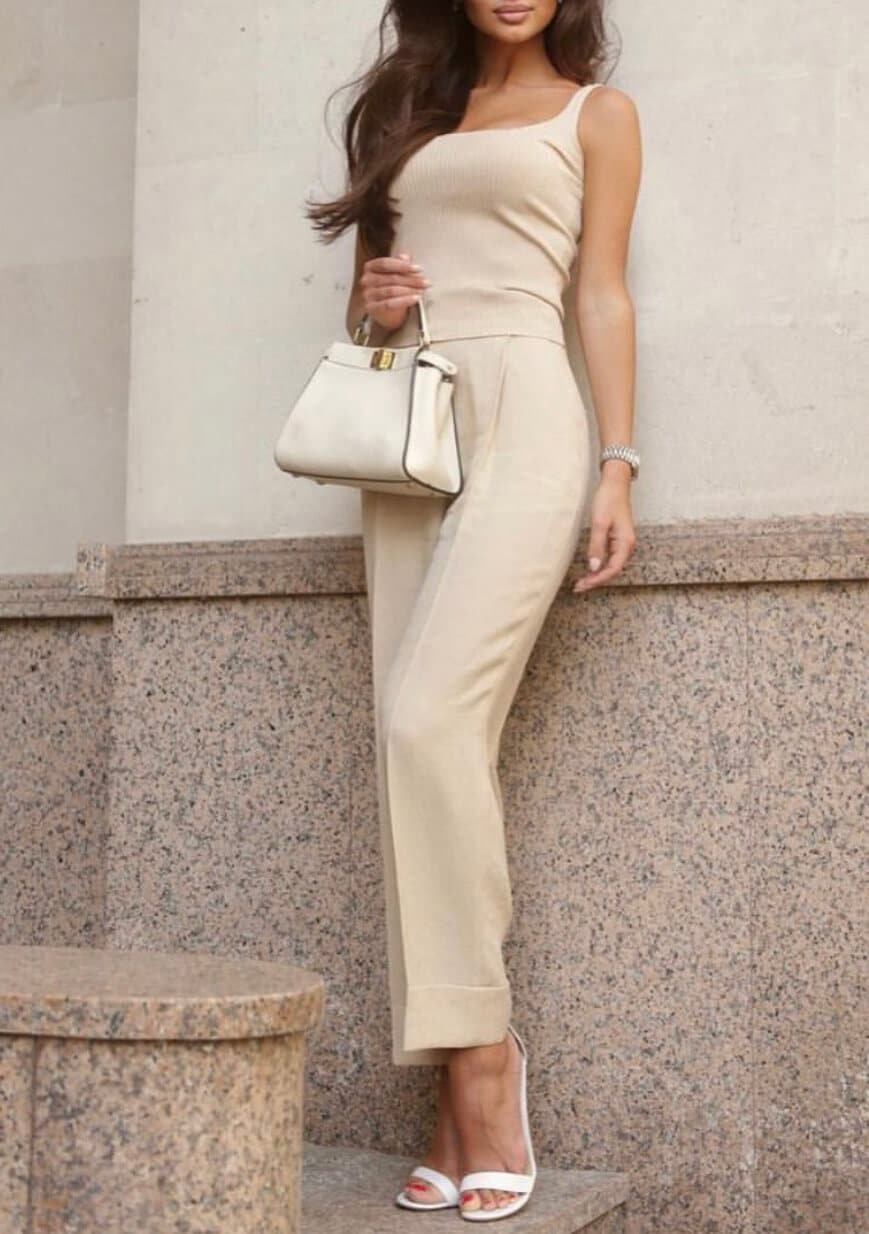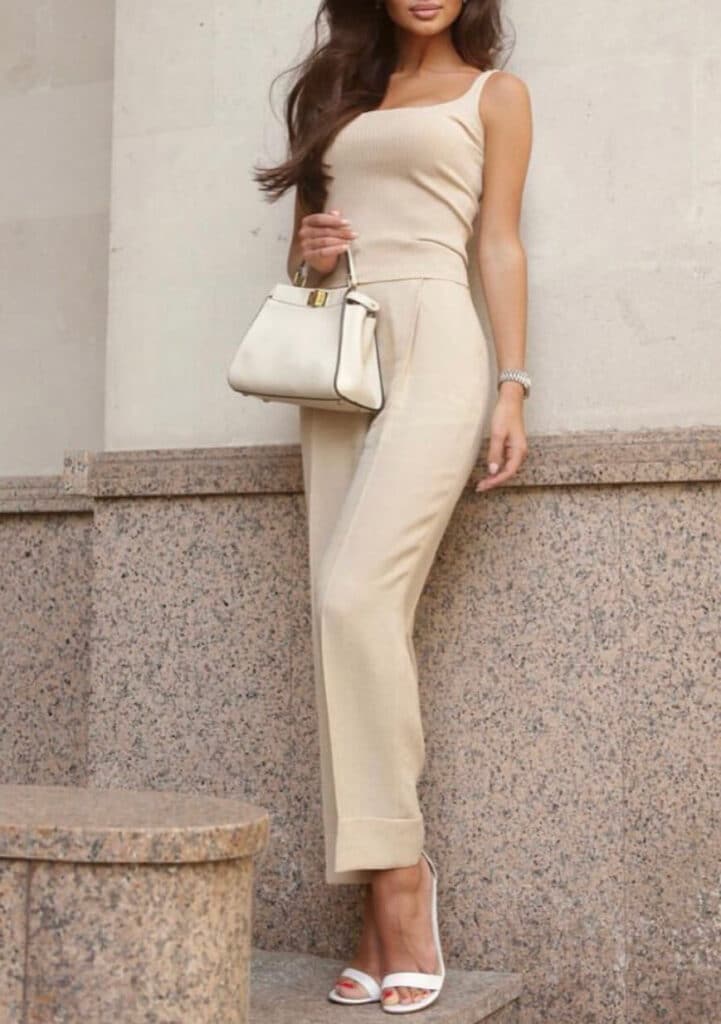 Our matchmaking magic helps us create beautiful connections. A once-in-a-lifetime discreet escort experience awaits you in Mykonos.
Why Rely On Mynt Models to Arrange a GFE Companion in Mykonos
Highly-refined women will make your holiday to Mykonos more vibrant than its sunshine.

Elite courtesans accustomed to the high society setting make for the perfect travel and dinner companions.
A private gentleman requires utmost discretion and confidentiality in his dating affairs.

Our model escorts sign non-disclosure agreements to ensure the procession of your privacy, and are not listed on multiple public websites.
We take pride in the unique experiences we bring to our valued clientele. The Mynt Models companion experience is designed to encourage a beautiful exchange of energies.
How Can You Date Elite Escorts in Mykonos?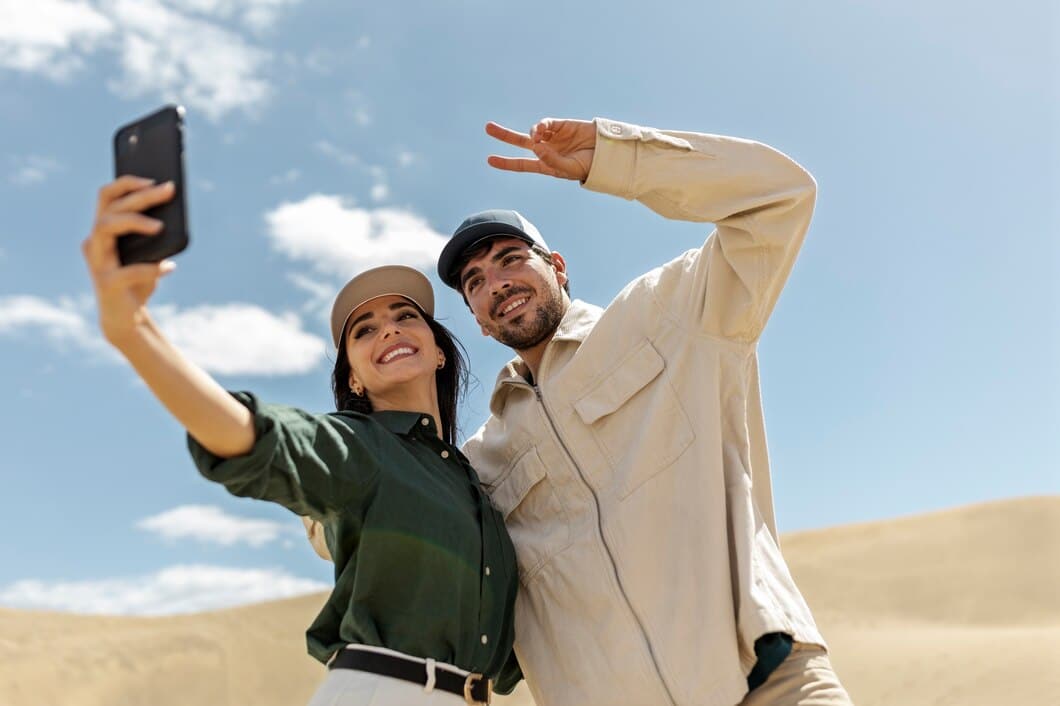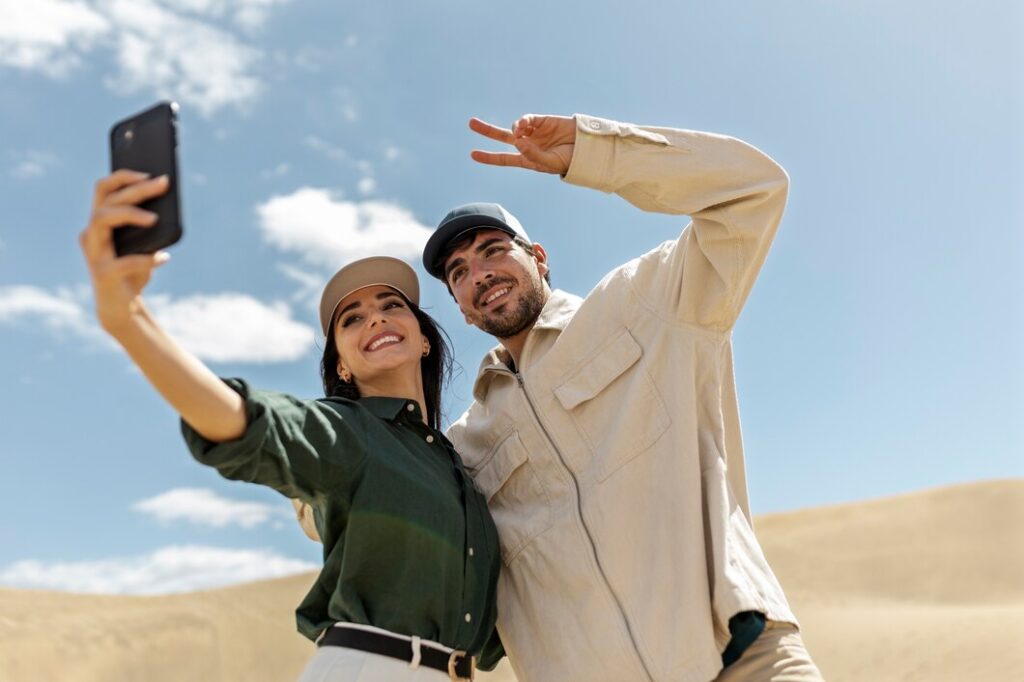 Email us to request for an initial consultation and verification. This personal touch ensures you're attended to perfectly.


Log in to a portal designed specifically for you. Here, you may browse models that will match your preferences perfectly.


Select a model you'd like to invite to a date. Her availability will be confirmed by your concierge. Arrangements will be made for you and your beautiful escort to meet on your requested date. 


Leave us feedback if you're comfortable. We welcome your confidential comments. We can't wait to treat you like the valued person you are.
Your Perfect VIP Escort Companion Awaits.
Our Upscale Escorts and VIP Courtesans in Mykonos Cater to Only the Most Refined Clientele
Ever since our inception in 1991, the Mynt Models motto has remained the same: to treat every gentleman like he is our only client. We are more than just another billionaire dating agency–our luxury VIP concierge agency also provides the most impeccable services, with attention to your privacy and preferences among our top priorities.
Mynt Models does not provide full time, by-the-hour escorts, and we don't entertain every inquiry. We introduce you to new, fresh, refined, and intelligent VIP escorts, courtesan models and beautiful, educated businesswomen.

Expect nothing but a superb, personally-tailored experience. Contact us to invite an elite model girlfriend and create your own special memories today.
Our exclusive list of successful, high-calibre clients includes: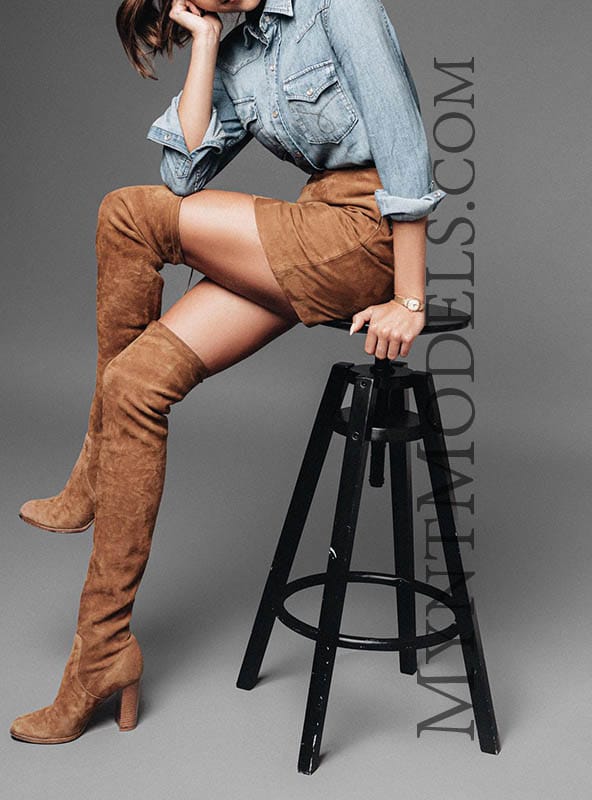 Dive into Mykonos's Beaches with a Charming Travel Escort
Mediterranean weather, beach towns, and fascinating museums–enjoy all this and more with your luxury VIP escort in stunning Mykonos, Greece.
Discover These Places in Mykonos for the Perfect Vacation
You don't have to explore the whitewashed alleys of Mykonos on your own. Let Mynt Models' luxury companions accompany you as you visit this magical Greek island's most renowned tourist destinations.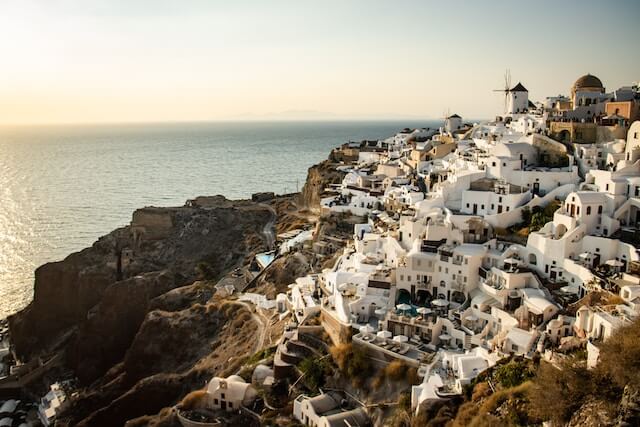 Also known as Chora, it is the island's main town and the heart of its vibrant nightlife. Its whitewashed buildings, narrow streets, and stunning views of the sea make it a picturesque destination with a charming date escort.
It's one of the most famous beaches in Mykonos, known for its crystalline waters, golden sands, and lively atmosphere. Thanks to the beach bars and plenty of clubs lining the coast, you and your beautiful escort will enjoy this popular party and event spot.
A charming neighborhood on the western side of the island, Little Venice is known for its colorful houses perched on the edge of the sea. Enjoy a drink or meal with your dinner escort at this romantic and picturesque destination.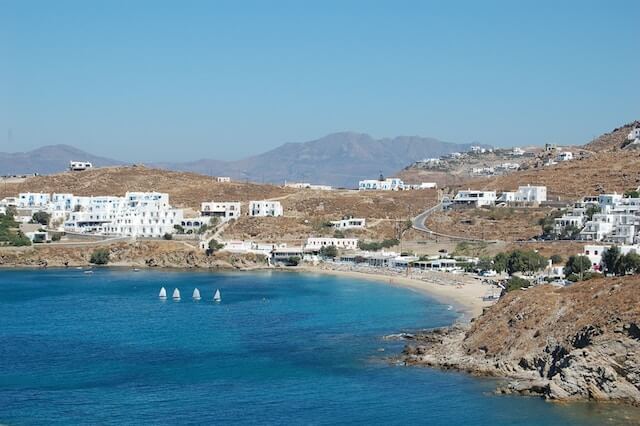 Mykonos offers diverse beaches, from bustling party scenes to tranquil coves, making it an ideal destination for beach lovers. Your trip to Mykonos wouldn't be complete without stepping into its Mediterranean waters.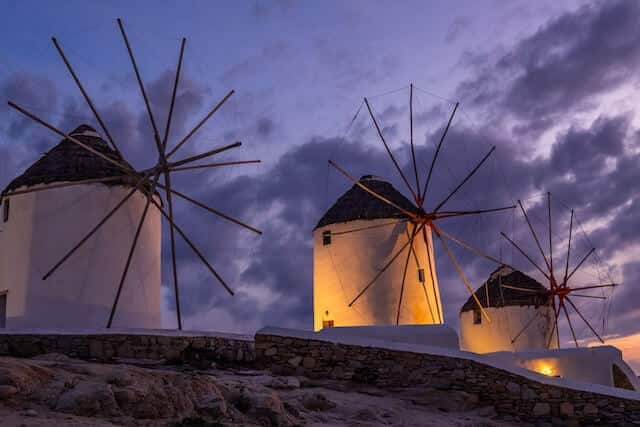 Mykonos is not just about beautiful beaches, but it also offers a plethora of tourist spots that cater to all kinds of travellers. From museums to historic landmarks, the island has something for everyone.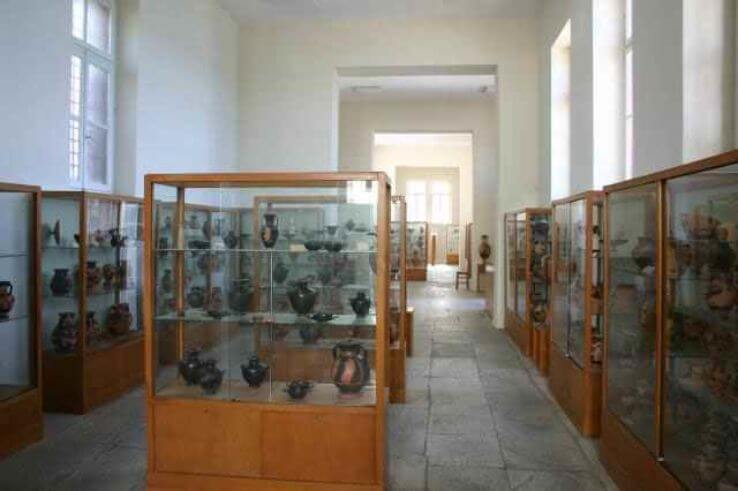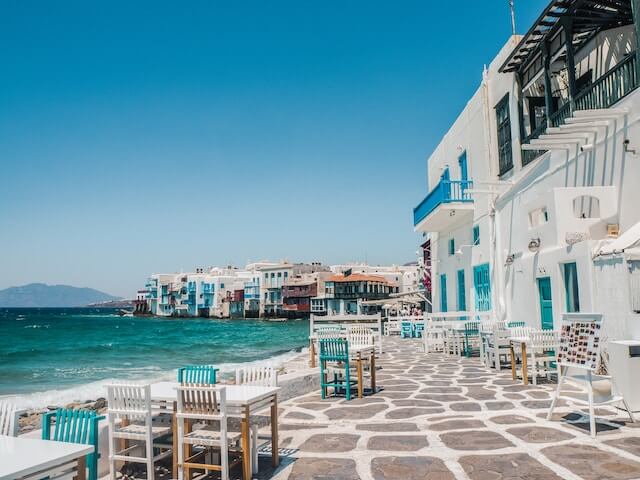 Located at the southern end of the Aegean Sea, the Greek island of Mykonos has a Mediterranean climate with hot and dry summers, and mild and rainy winters.

It's a popular holiday destination largely due to its favorable weather. The island experiences long, hot, and sunny summers, which makes it an ideal place for you and your beach-loving companion escort. The mild and rainy winters make it a quieter, more intimate time to visit the island and ideal for exploring the historic sites and picturesque towns.
Enjoy the island's refreshing sea breeze with a beautiful companion in Mykonos. From luxury traveling itineraries to pleasant companionship, Mynt Models has everything you'll ever need for your trip to Greece.

Check Mykonos's current weather here.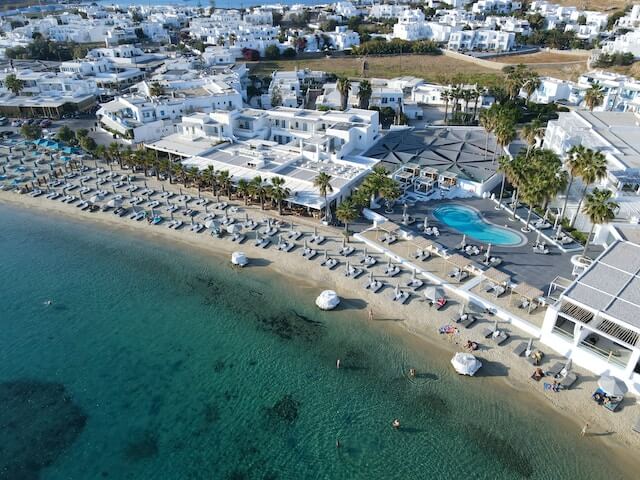 Mykonos has a diverse and thriving business scene centered on the island's tourism industry. The island is a popular destination for both Greek and international tourists, which has resulted in the development of a wide range of businesses catering to their needs.


In recent years, there has also been a growing trend towards luxury tourism on Mykonos. This has resulted in the development of high-end hotels, restaurants, and shops catering to affluent travelers looking for an exclusive and luxurious experience.
This has made the Greek island as a renowned hub for parties and a highly sought-after vacation destination, including millionaires and billionaires alike.
The affluent crowd who conduct either business or pleasure in Mykonos trust only the guaranteed quality service offered by Mynt Models. Be matched with the perfect elite travel companion. Don't miss out on the fun.
Opulent Hotels in Mykonos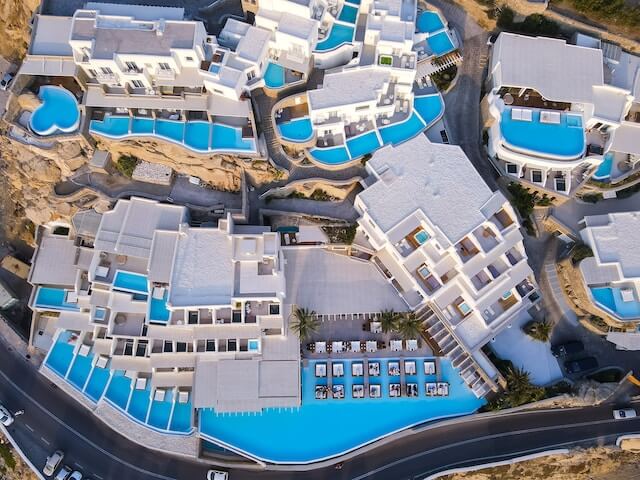 From stunning sea views and world-class dining to private beaches and infinity pools, here are three of the most luxurious five-star hotels where you and your elite companion can spend the night away.

Belvedere Hotel
Located in the heart of Mykonos town, the Belvedere Hotel is a luxurious and elegant hotel featuring a stunning infinity pool, world-class dining, and beautiful sea views. You and your VIP model escort can indulge in the personalized services and luxurious amenities, including the spa and fitness center.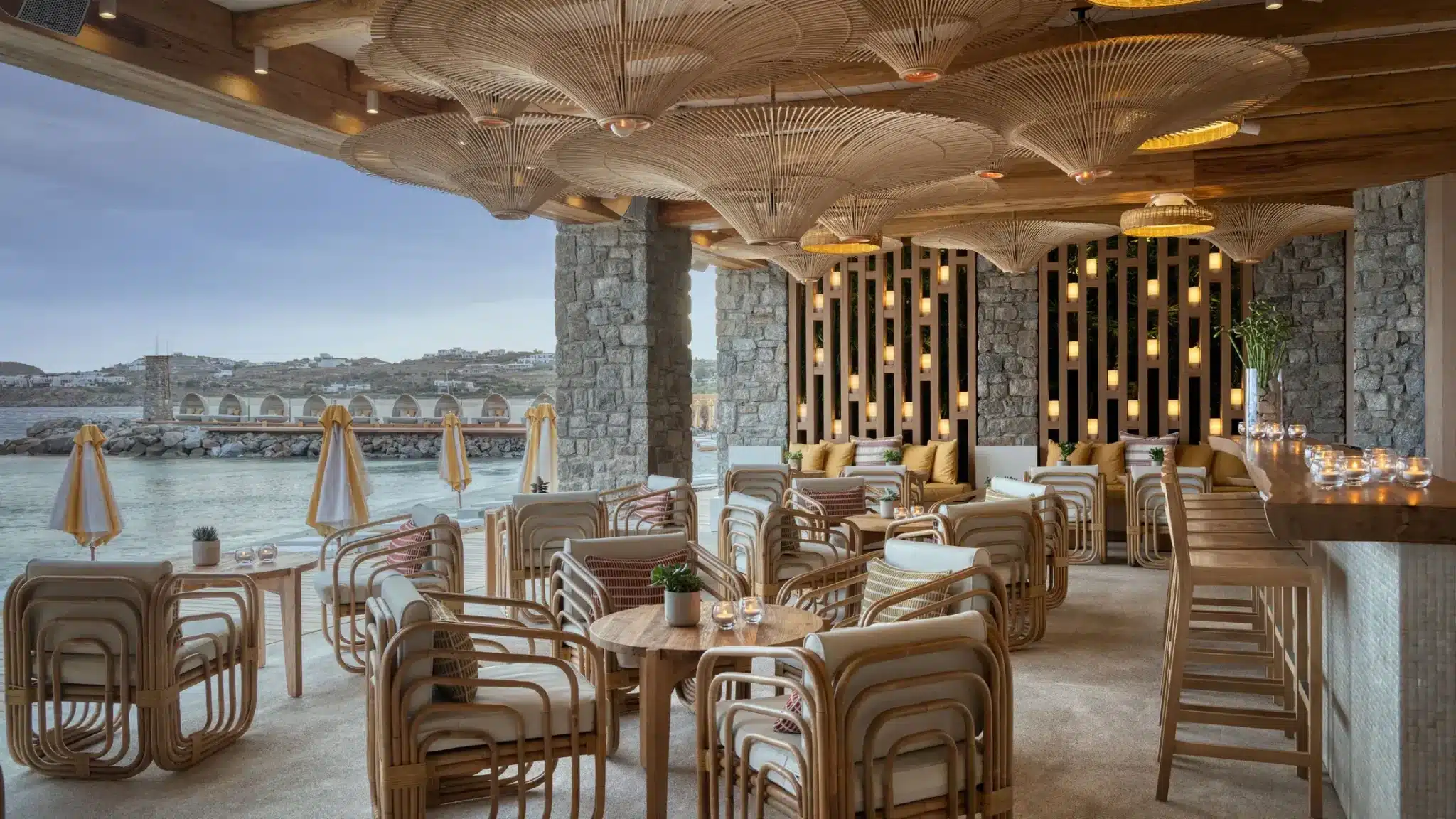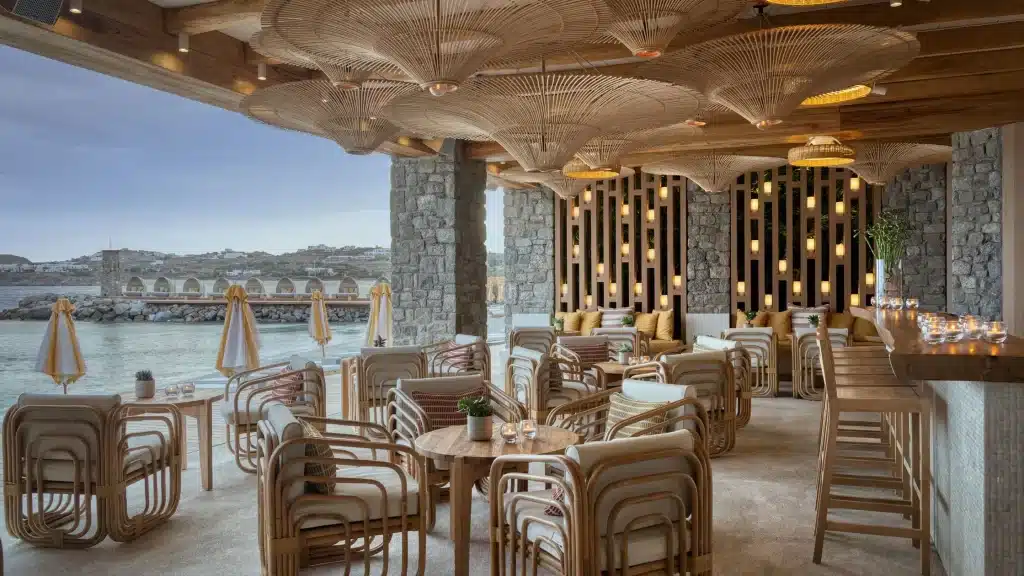 Santa Marina, A Luxury Collection Resort
Santa Marina is a luxurious resort situated on a private peninsula with stunning views of the Aegean Sea. The resort offers a range of luxurious rooms, suites, and villas, as well as several dining options, a spa, a private beach, and a variety of recreational activities you and your date can enjoy.
Myconian Avaton Resort
This hilltop property overlooks the beautiful Elia Beach. With lavish rooms and suites that features stunning sea or hill vistas, your gorgeous VIP companion will definitely enjoy the opulence and comfort.
Enjoy the luxurious hospitality of Mykonos with your elegant, highly-refined date.
To discover more top-tier luxury hotels in Mykonos, consider perusing websites such as Five Star Alliance and TripAdvisor for a comprehensive list of recommendations.
Meet High-End, Beautiful
Travel Escorts Worldwide
Mynt Models presents exclusive sociable escorts who are not only breathtakingly beautiful but also confident, educated and well-versed in luxury living. Wherever you are in the world, we have escorts available to offer you a first-class experience to make your trip unforgettable.
Contact us directly to meet with one of our elite models today!
Indulge in an unforgettable Mykonos experience with the exceptional services of Mynt Models.
Mykonos' beauty is best appreciated with quality company. Our matchmaking concierge service brings special people together for mutually enjoyable experiences. Let us enhance your trip to this lovely Greek island by providing a charming, adorable companion.