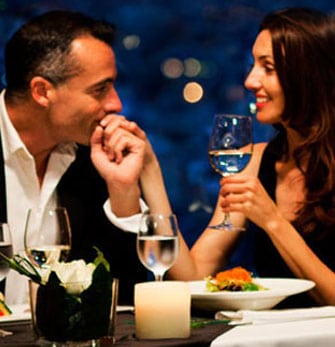 So, you've booked your date. Now what? If it's your first time, it's normal to feel a little apprehensive. Will it go well? Will my date be as the agency promised? What shall I say to her? Trust that your elite dating agency has done all the hard work for you and provided you with the date of your dreams. You will be introduced to an educated and beautiful companion. And like any new person you meet, a few little questions can begin the conversation, where you can start to find things in common, and enjoy each other's point of view.
You have no need to worry. She has been recruited to the agency for her personable and sociable nature. Just treat your date like any other. You should always behave like a gentleman and treat your date with the respect and consideration she deserves, as your equal. Whether your date is a dinner date or business meeting, never be rude or harsh with her. The date will not go well if you are unpleasant to be around, or bark orders. It is intended to be a mutually enjoyable experience. Your agency will provide you with a refined lady who expects to be treated with the same respect she affords you.  She will most certainly leave if she is feeling uncomfortable.
What should you talk about? Your date is well versed in polite conversation and you will find that she will soon put you at ease. You will also discover that you have lots in common to talk about. You might want to avoid too many personal questions to avoid any awkwardness. But it is always interesting to get to know someone – and if you arrange to meet the same date every time you're in town or need a companion, you can get to know her very well, like a true girlfriend experience. If you both really hit it off, she may well become your girlfriend. Or you can meet different women to keep your dates pleasant but casual.
Contact us now. You'll soon be enjoying the company of a well educated, beautiful lady who will fill your evening with fun, laughter and stimulating discussion. If, after dinner, you would like to go for a walk to further enjoy your surroundings, just say so. Your date will be only too pleased to share the experience with you and help you get the most enjoyment out of the time you have together. She will be very attentive and eager to ensure she leaves you with a smile.
As the evening draws to a close, behave like the perfect gentleman you are, and thank her for the date. As a polite gentleman, she will be looking forward to meeting with you again, should you wish to see her.
As you reflect on your perfect date, you'll soon realize why you chose an elite introduction agency. Don't be afraid to ask for the same lady again if you enjoyed her company! Contact us now and schedule an enjoyable evening. There are 365 days in a year – you deserve some enjoyment on some of them!