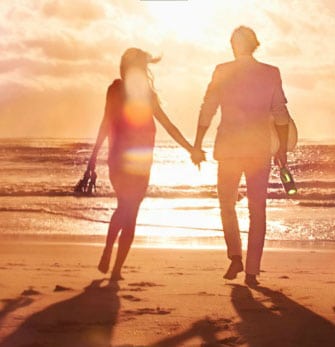 Discover gorgeous Miami with your elegant date, and find hidden treasures as well as the famous ones! It's sunshine all the way with this city of paradise, and you & your date are guaranteed to be spoiled for choice. Some ideas on what to do to impress your beautiful date are listed below. Why not make a little effort to make the night sensational, and see what the result is? :)
You could begin your date with an unforgettable walk along the Lincoln Road pedestrian promenade. This beautiful South Beach street has everything from bars to bookstores that you can explore at your leisure. This allows you to get to know each other in a relaxed and intellectual setting. See how she responds, what she is drawn to, what she notices or already knows about. Of course you could always catch a movie or visit the arts corner, but that can be a bit 'done' – it really depends on the girl. Ask her what she enjoys. There's something to suit all tastes in this bustling hub.
For romantic Italian Renaissance, couples can visit the Vizcaya museum and gardens. This will not only set the atmosphere for romance, but will transport you and your date back in time. You will love the sculpture garden that overlooks Biscayne Bay, and the limestone mansion is enchanting.
You could visit some of the romantic beach-side destinations whilst enjoying a cocktail and watching the sun go down. This breathtaking experience will stay with you forever, and sharing it will create a lovely bond and memory between you and your girlfriend. Try the sunset lounge or the Delano Hotel for perfect views and romantic settings.
If you are an outdoors type, you may spend most of your time in Miami on the beach. You can enjoy some quiet time alone or join the lively beach parties at South Beach where the party atmosphere lasts the whole year round. For more secluded spots, try Sunny Isles Beach or Key Biscayne. There is always something pleasant about getting your girlfriend into a bikini on a date… ;)
Perhaps you'd like to buy your date a thoughtful gift? Miami has plenty of shopping destinations for you to browse for a souvenir. Try Bal Harbor shops or the Village of Merrick Park for leisurely shopping experiences. Even better – take her shopping for something she might like. There is nothing to make a woman feel more special on a date, than to be told 'pick out something for yourself'. She will usually be very grateful in return!
Miami natives love to go boating, and there are plenty of opportunities to join them. Charter a boat and enjoy champagne with the wind in your hair as you relax and unwind. Or, if you are experienced and feeling adventurous, hire a boat and see where the day takes you. If you're the sporty type, you could also try some of the many water sports on offer.
The possibilities for exciting and luxury dating experiences in Miami are endless. Contact us if you need some ideas, or allow us to introduce you to a stunning date who knows Miami well. Perhaps she will be able to take YOU on an exciting date, as opposed to the other way around! ;)
Either way, Miami will be unforgettable.