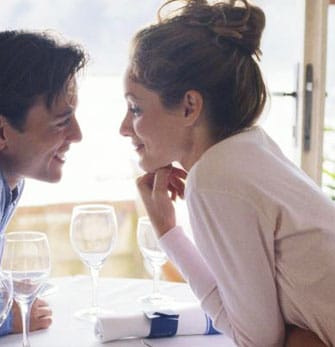 However if a movie date is your favorite type of date, definitely book Gold Class. Recline in comfortable large chairs and have champagne, dinner and dessert delivered to you by waiters! Total luxury, and a great way to spoil and impress your beautiful date. Whether you book a gorgeous model escort to accompany you as a tour guide through the city, or have a long term girlfriend or spouse to entertain, an evening at the movies is always a lovely prelude to a night of romance.
Another classic romantic date is a picnic, and there is nowhere more lovely than the Royal Botanic Gardens in Sydney for the stunning views of the Harbor. Sit under a shady tree and enjoy the peace and tranquility of feeding each other in the open air. Afterwards, take a stroll around the beautifully manicured gardens in the sunshine, then back to your hotel for a cool drink and perhaps a massage. Bliss.
If you want a dining experience that is just a little bit special, have dinner by the Harbor. There are many award-winning restaurants to choose from. Sit outside, or by a window and watch the sunset together, for a stunning end to the day. There are also wonderful dinner cruises on the Harbor. Absolutely serene and refined luxury. Watch the city slowly glide by, with your date in your arms n the moonlight. Your sexy escort girl or exciting girlfriend will love this as a start to a wonderful evening.
Alternatively you could book a lovely dinner at the Summit Restaurant – high up in Australia Square, the restaurant slowly rotates, so in the space of an hour, you will not only enjoy wonderful cuisine and an excellent wine list, you will also see a 360 degree view of Sydney city. Extremely enjoyable for visitors to Sydney, and a favorite venue for Valentines Day. Why not make every day Valentines Day..?
For something completely different, a tour after dark of the Sydney Observatory is a unique and thrilling experience. You and your date can explore the night sky and stars together while you learn about the universe and astronomy. Great for the more intellectual among you, whose meeting of the minds creates a spark of excitement. See how she responds to things in this environment, to get a sense of her. And of Sydney Australia!
Try a 'Roar and Snore' at Taronga Zoo for a truly memorable dating experience. Enjoy a behind the scenes tour of the zoo, and come face to face with some enchanting inhabitants. Then spend the night in a safari tent, and wake up to the various songs and chirps of the zoo. Sip your coffee as you watch the sunrise over Sydney Harbor for the experience of a lifetime. If you feel like roughing it for fun! You can always leave when the tour is done and return to the comfort of your five star hotel. :)
No Sydney experience is complete without a trip to Bronte Beach or Bondi Beach. Stroll along the water's edge or enjoy a picnic or a barbecue on the grassy areas. Buy some fish and chips, a remnant of the British rule, and enjoy them in the grassy areas above the beach. Be careful when feeding seagulls – feed one and you will attract the entire population of birds!
Sydney has everything you need for the perfect romantic date. Stunning beauty and interesting venues. Live music, food festivals, sports events, picturesque locations. From beach to river, farm to city, there is a luxury option for every occasion and every couple. From a packed events calendar to cosmopolitan chic, there is something to suit all occasions and tastes in this large Australian city.