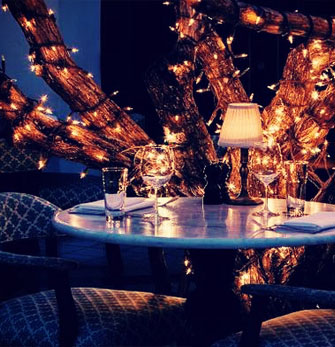 You don't want to be just another date,. You want to be memorable, and interesting. This often has more to do with how you behave than where you actually go. But venue is a big consideration. Because you don't know each other very well, it's best to keep the first date as simple as possible. Until you get to know your escort's preferences and dislikes, keep your date in Miami something you will both easily enjoy. Here are are few suggestions:
Dinner is always a sure way to entertain any guest, especially a beautiful date.  With so much variety of food and venues, you can't go wrong as everyone needs to eat!  Also, the food gives you something else to focus on if you are a little nervous. Try to choose a nice, romantic venue with a calming ambiance and light, soothing music. Perhaps consider somewhere with a pianist or small live band, sounds just perfect for a first date with a gorgeous elite escort companion! Gayot has some wonderful suggestions here.
If you don't feel like eating, or you want to eat later in the evening, what about a movie for your introductory date? There are always so many movies to choose from at the cinema in Miami, that you're sure to find something you both like.  Avoid anything extreme, such as a horror movie, as you don't want to give the wrong impression of yourself, or frighten her to death! Go for something that you think she might like too, as this will put her at her ease and show that you are being considerate and thoughtful.
Another option is to book tickets for a show or performance. You can enjoy spending some time choosing which one to see. There is always something thrilling about watching a live show in Miami Beach, plus it gives you plenty to talk about and focus on. An opera, a symphony recital, a ballet or even a live band would be wonderful entertainment to begin the evening.
Whatever you decide to do on your first date in Miami city, just remember not to do anything too extreme or unique, as you don't want your date to feel uncomfortable. You can do other things as you get to know each other better. Keep it simple and keep your options open. The focus of the first date should be on her, not on the entertainment!
Having said that, you can always ask the agency what your model companion's preferences are, and plan something around their advice. This is a safe bet in any situation – and another reason to depend on a professional, high end introduction agency to provide you with genuinely elite, screened company. Start out on the right foot, and contact Mynt Models & reg today, to be introduced to absolutely exquisite local Miami beauties who will make your evenings highly memorable.