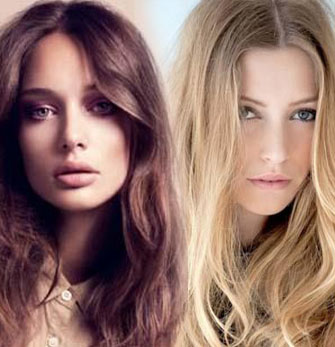 We've all heard the saying "blondes have more fun", but then we also know the old assumption that brunettes tend to be more intelligent and sensual… Is either of these rumors even true? Every women who goes blonde is asked the same question: "So, do blondes really have more fun?" (yawn…)  So how to discover the truth? Which girls make better dates, blondes or brunettes?
The beauty of using an elite dating agency like Mynt Models® is that you can date both and find out for yourself! There are many myths surrounding personality and hair color. The truth is, ALL girls just want to have fun, regardless of her intelligence level! Having said that, we all have personal preferences, and when booking with an elite dating agency, you get to specify what you are looking for. The perception of the dumb blonde still exists, but the reality is usually very different. Since the agency only recruits the most well bred and intelligent women, you can anticipate high quality , regardless of coloring.
For example, does a brunette who goes blonde suddenly become a different person? Does she suddenly lose her warm intelligence and become a "dumb" bubbly "funtime" girl? Does she feel pressure to now be "fun"? Supposing these sayings are all in fun, you can meet with several types of blondes and brunettes, and rather than booking the time of someone for their hair color, you can actually book her for her enjoyable company. For her intelligent conversation, her interesting stories, her in-common hobbies and enjoyments. For her own personal and unique qualities, as one who respects women does!
The majority of beautiful young women who list with an elite, unique introduction agency like Mynt Models®, are well educated and extremely clever, regardless of the color of their hair, rest assured. However, men being men, they sometimes have various reasons for preferring one over the other. And that's just fine; as long as you are a GENTLEMAN, and not just a 'man' who prefers blondes ;)
Female celebrities are often most well known for their hair, and as a result they have found the best styles to make the most of their looks. Hair color can even add to a woman's sex appeal. Perhaps you want to date someone who resembles your favorite celebrity? Or maybe your first love was brunette? Either way, it's probably difficult to pinpoint exactly why you have a certain preference for one or the other. Maybe you feel that blondes are more outgoing and bubbly, while brunettes are more serious and intellectual. A common and very often incorrect stereotype ;)
Perhaps you have no real interest in hair color so much as the personality and demeanor of a young lady – now you're on the right track!  All your dates from our international agency will be very beautiful, and luxury is the aim of the game. However if you do have a preference of hair color, you will have your chance to offer your opinion when you book your date. The agency will take you through a brief consultation to ascertain your needs, and one of the several questions if your preference of coloring.
Your date will happily replicate a particular style from a celebrity, to enhance your dating experience. Just let the office know you'd really enjoy meeting someone like supermodel Giselle Bundchen, and your wish is their command. If they have tall, leggy, natural looking, cute blonde supermodels, you will be introduced to them. You could select Marilyn Monroe's simple yet elegant look of curves, classic makeup and blonde elegance. Or you may prefer an Eva Longoria type – petite, brunette, dark eyed and olive skinned. Maybe you prefer Katy Perry's brunette curls over Jennifer Aniston's straight blonde looks.
The choice is ultimately yours, but the fact is that every woman is unique and beautiful in her own way, and how much fun she is depends partly on her own nature, and partly on how much of a gentleman you are! While you may find some women fairly pleasant yet unspectacular, some gentlemen might bring out the wild side in her, and they enjoy an extended evening of laughter and mutual adoration as a result.
One woman's bore is another woman's stable, tasteful gentleman. One man's 'imperfect' will be another man's 'goddess' or 'perfection'. Which is why the consultation questions and matchmaking efforts of the agency are so wonderful – it saves you all the time of finding someone to suit your style! You can meet exactly the type of woman you love, every time. You can even ask her to dress a certain way or behave a certain way. It's ultimately all about having fun.
Whichever hair color you prefer, if any, the agency is experienced an professional in matching you perfectly to the date of your dreams. She can dress to turn heads and make a great impression on you, or she can dress to be discreet in inconspicuous, some tastefully attired arm-candy for the VIP. Just chat with your agency staff member, and all your dreams can come true.