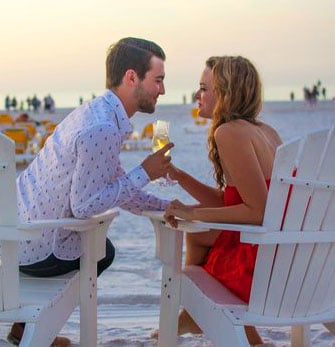 There are certainly many attractive ladies in Miami. Simply put, Miami draws a lot of gorgeous personalities, and the warm climate there makes it easier for you to glimpse their tanned and toned physiques!
There are a great many ways for you to meet beautiful women in Miami, particularly if you have an active social life. However, it can be rather time-consuming, and you'll probably endure quite a few dates where you don't feel any chemistry with the lady as you get to know her. Dating in Miami can be exceptionally difficult and often superficial, sadly. Friends may try to set you up with females they think you'll get along with, and this can create a little bit of awkwardness when you don't get along with the lady as well as they'd hoped.
Bustling Bars by the Beach
Bars in Miami Beach are also excellent places to meet ladies, and they offer a fun environment. Striking up a conversation with a lady you like, and getting the timing right can be tricky. You might have to crash and burn a few times before successfully starting a decent conversation! However occasionally, you will meet someone with whom you get along well.
To avoid this confrontational rejection-rodeo, simply contact Mynt Models and allow our talented concierges to match you with some really lovely, beautiful women who suit your preferences. We're highly selective, and only accept model applicants who are not only beautiful and fit outside, but also have a beautiful soul.
She must be educated and intelligent, naturally warm and sociable, with natural beauty, among other criteria. You're bound to meet a stunning model whose company you'll enjoy when you contact us.
Speed Dating Thrill
You could also try speed-dating, which is an evening spent date-hopping around tables. You get to spend two minutes each with many ladies, one at a time. It can be an exciting experience. Although the entire concept sounds exhausting and repetitive to some, other people find it an efficient way to decide who they do and don't like.
However not many really beautiful models are attending speed dating nights… It depends on the quality of woman you seek.
Go Online and Find a Match
You could also try online dating, but as we all know, sometimes you don't always get what you see! Some of the beautiful women listed in Miami may be a little older than they claim, or they may not disclose their genuine or recent photos.
At least you can communicate from the comfort of your own home before agreeing to go on a date. There are ways to screen people and ensure you are not wasting time. This screening does take some time though.
If you are short on time, it makes sense to contact Mynt Models, where all the sifting has been done for you. You can expect to meet an amazing, beautiful, intelligent and hygienic woman with a successful career, and enjoy an incredible experience every time.
Sadly, finding a decent date in Miami can be like looking for a needle in a haystack. To save time and money, consulting with Mynt Models concierge is a good idea. Trying to find a tasteful, elegant lady with good breeding can be difficult in any city. Not to mention weeding out the greedy types.
You can spend thousands a month just on time-wasting, unrewarding experiences. So the most ingenious idea is to go where all the women have already been filtered, and only the most elegant, tasteful, and charming ladies are available for meeting eligible gentlemen. They're discreet, elegant, and absolutely lovely people. For casual dinner dating or for a weekend or vacation, you can't go wrong.
Be Matched by a Professional Instead
Another option is to try a professional matchmaking service that screens all the ladies up front so you don't have to. They'll try to match you perfectly to someone suitable and compatible with you. This could save you time, energy, and money in the long run! You'll be paired with multiple dates, and you can see how the chemistry is.
Although, one must do a little research to find the Miami introduction agencies who will actually take some care in matching you and introducing you to appropriate women. Sadly, like many industries these days, some agencies are more interested in making money and getting your membership fee than in ensuring you receive a fantastic list of women who are suited to you. Ensure the agency does more than just introduce you to whoever is available that week. You need to be introduced to beautiful women who will fit your stipulations.
A professional matchmaking escort service like Mynt Models takes great care in matching you with the perfect woman, and does not just send you whichever women are available. Being a client of this elite escort introduction agency takes all the worry and stress out of dating.
Your job is just to have a fantastic time and to treat your date like a princess. In return she will ensure you enjoy a perfect date night. All it takes is an email to our friendly concierges, who will discuss your preferences, keeping everything 100% confidential forever.
Our concierge staff will treat you like their only client, and spend considerable time selecting the perfect dates for you every time. There is always more than one model to choose from, and whether you like a little variety, or prefer to meet with the same beautiful woman over and over, developing a rapport and connection, Mynt Models agency can assist you.
Book well ahead, so they have time to source the perfect women for your occasion. Most women of that caliber require a little notice to prepare herself with salon visits, and to arrange her schedule. When you work out the real cost of dating models, actresses and successful businesswomen in Miami, vs the cost of booking a guaranteed superb evening with the Mynt Models elite escort agency in Miami, there's no contest. How's that for simplicity?