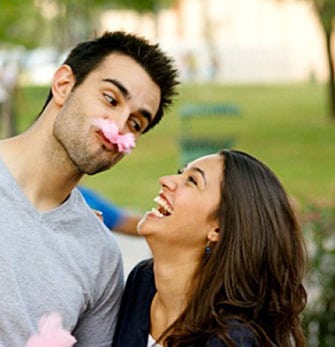 A smile from a woman is the best, reassuring form of non-verbal communication. Naturally men like to please her all the time, to see this smile regularly. It is also when a lady looks the most beautiful. It is well known that the size of the smile on a woman is directly related to how well her man is treating her. And let's face it – a happy woman makes for a happy life and environment. We won't discuss the alternative! So here's how to bring a smile to her face in record time.
Be Playful to Make Her Smile.
Tease her a Little (kindly), providing she doesn't take herself too seriously!  You could joke about how she's cute when she laughs, or how she fiddles with her hair when she's nervous. This will show you have a special connection with her that you want to develop. It will also let her know you notice things about her. This always makes a woman feel good, and when she feels good, she will smile.
Make Fun of Yourself But Don't Fish for Compliments.
She will love that you don't take yourself too seriously, and that you have a sense of humor. It will reveal a side to your personality that she probably hasn't seen before, and it will please her that you trust her. Laughing at yourself can also show great confidence, seeing as you are so sure of yourself, you don't need validation from others or care about their opinions. Women love confident men who know what they want, and don't give a hoot about the opinion of others. Apart from hers of course!
Tell Her How Beautiful She Looks.
She will have spent ages getting ready, and she will be pleased that you noticed her efforts. Compliment her regularly and you won't fail to make her smile often.  But keep it genuine. She can tell when you're just spitting out words. Really notice something about her and let her know you like it. She will be smiling from ear to ear soon; a sign of your great success.
Gentlemanly moves such as opening the door for her, or helping her with her coat can make her feel special, which will often bring on a smile. Offering your own coat to her when she is cold, or even pulling out her chair for her to sit at the table, are all chivalrous things that will make her smile – even if she is an independent feminist, your efforts to please her will make her smile.
Listen to Her and Ask Her Questions.
Be interested in her thoughts and opinions. Girls love a good listener, and she will be flattered that you care. What are her hopes and dreams? How was her day? What does she think of the latest gadget/ headlines/ political scandal?  This is how women communicate and become so close, by sharing thoughts and feelings and opinions. Communicate in a way she understands, and half your work is done. :)
Send funny messages to her, directly if she is your girlfriend, or via email to her introduction agency if she is your escort date for now. She will be delighted that you were thinking of her when she wasn't around. Keep it clean and just a bit of harmless fun. Send her a message last thing at night and you'll know she'll wake up with a smile on her face when your contact is the first thing she sees.
Plan a Great Surprises
Go out of your way for her and plan cute surprises such as flowers or little gifts. Girls love being spoiled and this will undoubtedly make her smile! Every woman has different needs in life – some like gifts, some like compliments, some like caring actions, some like talking and meaningful communication. Most women enjoy a combination of these; find out what her preferences are.
Be Yourself.
She wants to get to know you, not the personality that everyone else sees, or the social facade you wear to keep people at a distance. Share funny stories from your childhood or past. This will make her laugh more than anything, and endear yourself to her. It means you are being intimate with her by sharing some of your most embarrassing moments. Most certainly she will have similar funny stories from her childhood or past. Then the ice is well and truly broken, and the date can continue on the best foot.