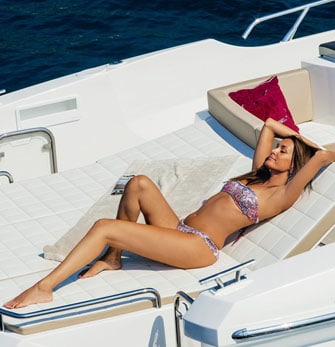 If you want to impress a lady, chartering a yacht will undoubtedly have a lasting impact. She will know you are a man of distinction, wealth, and taste if you plan this exciting surprise for her. It will be a holiday like no other, with countless destinations awaiting you and your beautiful travel companion. If you're planning a surprise for her, give her enough notice and advise her to bring the necessary clothing and bathing suits.
Choose a reputable yacht charter company.
When looking for yacht charter companies, take the time to read reviews from past customers to get an idea of the level of service they provide. Look for a company with a good reputation and who have been in business for several years. It's also important to check that the company has all the necessary licenses and certifications required to operate a yacht charter business in your area.
A yacht charter company with a stellar reputation will provide you and your beautiful holiday companion with a seamless holiday. This certifies that they know exactly what they're doing and have only the finest service for you. Unless you are a seasoned sailor, you should opt for the fully staffed option. You will be provided with a skipper and a hostess who will care for your needs. Spend some time talking with the company and reviewing your options – you will want this experience to be perfect for impressing your date.
Know what you want.
It's essential to be clear on the type of yacht you want to hire and the amenities you'd like to have on board. This will help you find the right yacht charter company and streamline the booking process. Consider the size of the yacht, the number of cabins and bathrooms, the type of cuisine you'd like to have on board, and any other special requests you may have.
You may also ask your elite VIP companion about her preferences; she's your date for this exciting holiday, after all. Do you want the option of learning to sail? Is there any specific cuisine you prefer while on board? Be sure to inform the yacht charter firm about your ideas; they will make them a reality. Be as involved as you want! Your skipper will give you the option to join him in sailing the yacht, and your hostess will take care of housekeeping and food. Your lovely travel escort may also be thrilled at the prospect of learning to sail, so make sure you give her the opportunity.
Book in advance.
When booking a yacht charter, booking well in advance is important to ensure that the yacht you want is available on the day you want to sail. Yachts can book up quickly, especially during peak season or holidays, so it's a good idea to start looking and comparing options at least a few weeks before your desired date. Booking in advance also allows you to negotiate rates or find promotional offers that may be available.
Regarding impressing your date, booking in advance also shows that you are organized, thoughtful, and have put effort into planning the experience. Make sure to communicate with the yacht charter company about any special requests or preferences you may have, such as favorite foods or drinks, decorations, or music. Additionally, consider timing your yacht charter with sunset or other scenic views to enhance the experience and create a romantic ambiance for you and your VIP travel escort.
Plan ahead.
Plan ahead to ensure everything goes smoothly on the day of your yacht hire. Confirm the booking details with the yacht charter company, and ensure you have all the necessary paperwork and documentation. Consider packing a picnic lunch or snacks to enjoy on board, and don't forget to bring sunscreen and a hat to protect yourself from the sun. It's also a good idea to familiarize yourself with the yacht's layout and safety equipment before setting sail.
Consider adding thoughtful touches to the yacht charter to impress your date. For example, you could bring a bouquet of flowers or a small gift for your date or decorate the yacht with candles or other romantic accents. You could also plan out a unique itinerary, such as a sunset sail, a visit to a secluded beach, or a tour of local landmarks. Make sure to communicate with your beautiful escort date about any surprises or plans you have so they can be prepared.
During the yacht charter, make sure to be attentive to your date and their needs, whether that means offering them a drink or snack, helping them take photos, or engaging them in conversation. Pay attention to their interests and preferences and tailor the experience accordingly. Finally, remember to be respectful and considerate of the crew and the yacht, and leave everything in the same condition as you found it.
Hiring a luxury yacht may possibly be a new experience for your lovely travel companion, who will love the sense of adventure it brings. You can choose your destination and explore new locations together. How you spend your time is up to you. You can relax on deck, read or even soak up the sun or you could find yourself swimming with dolphins and exploring new coastlines. Or perhaps enjoying a bottle of champagne below deck and away from the world's prying eyes would be more to your preference. Surely, the two of you can decide that together.
You can visit as many romantic destinations as you like and eat in a different port every night. Spending evenings beneath the stars on your own chartered yacht will be tough to beat for a date to remember. To ensure you have a companion who will make your trip worth it, contact Mynt Models® and book some time with a perfect match. A beautiful woman to suit your ideal preferences; a dream date to make your experience unforgettable.