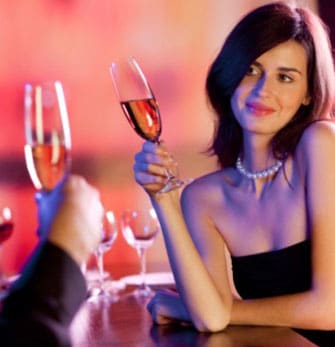 Some men just have a knack with women. You know the type, all the girls notice him and want his attention. You want to be that guy that all the ladies want to date, right? So, what do you need to do to become that man? First of all, put yourself in her shoes and imagine how you would like to be treated on your dream date. Behave with her preferences in mind, as well as your own. A gentleman always defers to a lady's own preferences where possible – and is richly rewarded. Then simply make all your dates a dream date!
Treat her like a lady. Be attentive and courteous, and when you meet her, tell her how beautiful she looks. Compliment her throughout the evening; don't overdo it, and keep it genuine. This will make her feel like a million dollars and that all the hours of preparation she has done for you, haven't been in vain. Maybe you could bring her a gift? Some flowers perhaps, or a little piece of jewellery. A fragrance or a handbag. Be the perfect gentleman, and she will reciprocate beyond your wildest expectations.
When you are on your date, listen to her. Find things that you have in common and maybe things you would both enjoy on future dates. Always be polite and treat her well around others. A quality individual never makes anyone feel inferior or uncomfortable; this is the first sign of class. Also, treat others well when you are with her, this will undoubtedly impress her if you are thoughtful and kind. Someone who is rude to a waiter is rarely the type of person anyone wants to be with; it shows a lack of class and breeding.
Talk about yourself without rambling, although if you are nervous, rambling can occur regardless. But keep it light and fun. Tell her about your day, what was good about it and maybe a little bit about your job and why you like it. Maybe your background or lifestyle. Talk about your hopes and dreams for the future and ask your date about hers. Most importantly, don't scoff at her ambitions. For someone to choose to share this with you is a very intimate thing. Don't shatter her precious dreams! Offer support and encouragement.
The key to impressing a woman on a date is to treat her like a princess, and make her feel valued. If she enjoys herself, she'll make sure you do ti – and she'll be happy to date you again. You'll also earn yourself the reputation of being the best date ever, and everyone wants that, right?