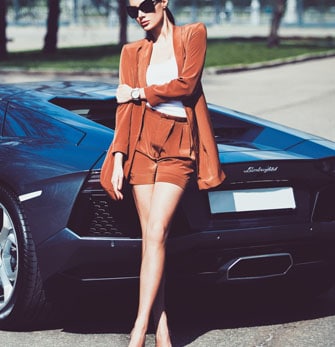 If you want your date to be a memorable one, hire a sports car to give her the ride of her life. Will it pay dividends though..? Is all that expense and time really worth it? Read on to find out.
How To Arrange It
Think about what kind of car you will be confident driving, and look around for the best sports cars. Most elite car rental companies will have high end sports cars for hire, and our elite date will be just as gorgeous as the car – you'll be in beauty-heaven! Whether for the day or for a few weeks' road trip, the thrill cannot beat.
You can go anywhere you want – perhaps a picnic near the beach, or an adventure in the country – wherever the road takes you! Either way, your date will be delighted to share in the adventure. Just be sure to let her know beforehand where you are headed, so she can prepare for the day. If you book her time through an introduction agency like Mynt Models®, legally you will also need to make the agency aware of where you will be taking her. But that's a simple enough task for a day of absolute relaxing bliss. Sound worth it yet..?
Approach a Company
To hire a sports vehicle you will need to approach a company that leases high end cars, then arrange the lease. Of course, you will need to have ID, and there will probably be a hefty (refundable) deposit. There are many sports cars available to choose from such as a Ferrari, Lotus, Porsche, or Aston Martin. Your date will feel absolutely spoiled with the luxury that a sports car has to offer and the thrill of the adventure ahead.
A high-performance car is most definitely a status symbol, and you will be the envy of everyone else as you cruise along in your amazing car, with your even more beautiful date. Imagine pulling up to the restaurant or club in a stunning Lamborghini, or flying down the highway in a sparkling Maserati?
Don't Get Too Carried Away
Try not to get too carried away with the awesomeness of the car and forget about your gorgeous companion! Make sure to involve her as much as you can. She might even jump at the chance to take over the wheel. As long as you have third party insurance, everything should be fine… But more often than not, she will be quite happy to allow herself to be chauffeured by you to your destination. She has just as much pleasure being helped out of a luxury car, and being seen with you, a luxury-car-driver!
A shared, thrilling experience such as hiring a sports car will bring you closer together as you spend time getting to know each other under such exhilarating circumstances. You will be creating amazing memories, to cherish forever. It's the beginning of an unforgettable day. If you don't feel like doing all the driving, you could consider booking a chauffeur, leaving you free to devote all your attention to your beautiful companion. You'll also be able to enjoy a drink or two en route! You can relish all the amazing sights together and relax as your driver takes control.
Of course, for the more affluent gentlemen, this entire process will be unnecessary, as he probably owns more than one luxury vehicle, and can arrange for his driver to take him and his date out anytime – but if you are still on your way up, remember, it's ok to 'fake it til you make it'. :)    There is nothing wrong with creating an image or impression, until you have the ability to make it permanent. Enjoy your life, it's very short.
In short, is hiring a sports car really worth it? The answer is, a resounding YES!