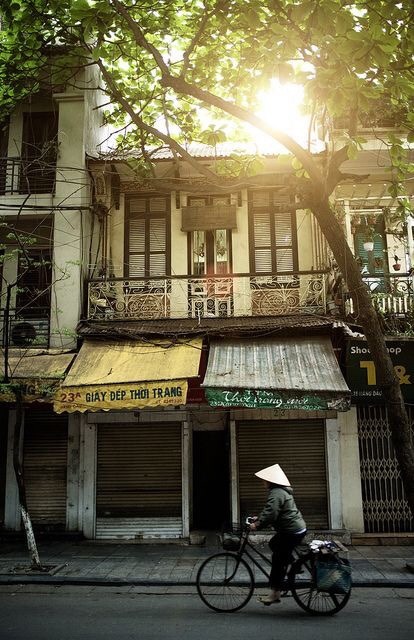 The city of Hanoi is the political center of Vietnam and is increasing growing as a new travel destination. The long history of Vietnam is still seen much more evidently in the old infrastructures and streets that although slightly wormed down through time, displays the rich traditional Vietnamese culture as compared to the more cosmopolitan Ho Chi Mind. Although most tourists consider the city as only a transit point in exploring northern Vietnam, there is much the city has to offer in terms of culture, food, and people. Journey to these amazing tourist destinations with your international travel companion as an introduction to the rustic and quaint lifestyle in Hanoi.
Wandering around Old Quarter
Seemingly a chaotic area filled with motorbikes where crossing the street becomes somehow a dangerous undertaking, the Old Quarter is a famous merchant area where French colonial and ancient Vietnamese architecture are mashed together in the old rustic streets. Different stalls lined the streets selling a variety of merchandise from sugar products, metalworks, to fabrics can all be found within the area. One should explore Old Quarter walking around the different streets with each one having a unique and novel name usually corresponding to the type of merchandise sold in that particular street.
Exploring Hoan Kiem Lake and Ngoc Son
Located at the center of the city Hoan Kiem Lake also known as Turtle lake is a popular place for tourists and locals for strolling and hanging out after the hustle and bustle of the city life. The history of the lake pertains to a legend about a Turtle God who helped the emperor fight against the Chinese during the Ming Dynasty. There are many turtles inhabiting the lake itself and if one's lucky enough, you may even get a glimpse of one particular giant turtle rumored to be a direct descendant of the turtle from the legend. Walking around the lake, there are plenty of vendors, small shops, and statues scattered around the complex. Most notable of these structures is the turtle tower erected on an island within the lake and the red bridge which has been become a famous venue for photoshoots. The bridge leads to the Ngoc Son temple which houses a giant preserved turtle and is also a good spot to watch the sunrise and sunset.
Sightseeing around Ho Chi Minh Mausoleum
A strict protocol is followed in Ho Chi Minh Mausoleum where one can view the embalmed body of Ho Chi Minh, the first Communist leader of Vietnam. Photography is prohibited as well as wearing shorts or top tanks inside to show respect to the well-respected leader. Although there are a lot of museums and monuments in Hanoi, the Ho Chi Minh Mausoleum is a must visit particularly because it provides a unique experience like no other and it showcases the degree of reverence the locals have to their heritage.