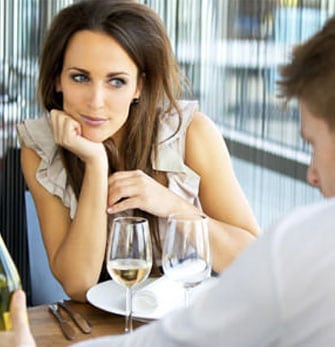 Women and men often think very differently about romance. American men usually understand this better than most, and even enjoy the 'romance dance'.
Romance and romantic feelings (not love!) tend to make women feel extraordinarily loving and relaxed. It's in your benefit to make her feel this way. You'll want to get the most out of your date, so make sure it's as romantic as possible. 
Pull out all the stops to ensure it's the most exciting, special evening of your life! Women love to feel like you've made an effort to please her, and it's easy to get it right if you take a few simple steps before you meet. Follow these tips and watch your dates blossom into more enjoyable and fulfilling experiences.
All she really wants is to be the focus of your attention, and to feel like she's valued by you. And she will reciprocate with great energy. Make sure you've made an effort with your appearance. Take a thorough shower and wear a nice suit. Don't forget a close shave and a nice cologne too.
When you're together, be considerate as well as courteous. Perhaps bring her a flower or some small gift as a token of your care. Respectfully tell her how beautiful she looks (without being sleazy) and ask her opinion on things. Consider her feelings. She will quickly see that you are thoughtful, kind, and romantic.

Elite dinner escorts and beautiful international travel companions always respond very well to men who know how to be sweet. All women love sweet talk!

Make sure you choose somewhere elegant for your evening, where your model date can feel valued, safe and comfortable. Choose a romantic venue with soft lighting, soothing, relaxing music and an intimate atmosphere. Maybe even go dancing where she can feel appreciated as you appreciate her beauty.

She'll feel like you've thought of everything, you're in control, confident, respectful, and enjoying her company. This bodes very well for you, as you are storing up 'points' with women when you treat them well.

Be confident but not cocky, as you don't want to offend or disappoint her. If the mood is right, gentle kisses and soft touches will make her feel desired and sexy. Remember not to force anything; let it all happen naturally. If you're relaxed in each other's company, you'll know you've done everything right for a perfect, romantic evening.
When she is made to feel safe, respected, and appreciated by a confident man who is not trying to force anything, she will be most grateful and open to see what else there is to explore together.
At the end of your time together, make sure you let your date know she was the perfect companion. Make her feel protected and cared for. Be the perfect gentleman, and she will most definitely want to please you and see you again.