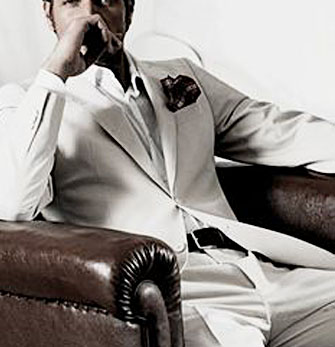 It really is true that you never get a second chance to make a first impression. People will make a decision on whether they like or trust you within just a few seconds of meeting you and even then, their judgement may well be wrong. And as they say 'fake it til you make it' – so there is no excuse not to look powerful and confident, simply because you aren't yet!
You want to look like an affluent successful man, even if you already are one. But we're aren't born knowing these insights, they need to be learned. When you have a position of power, or you become successful and wealthy, then your behavior begins to reflect that naturally. (Hopefully in a gracious tasteful manner, sans arrogance!)  But if you have yet to reach your highest potential, you can still make the impression you are there. We all pickup tips and trends as we progress in life. However, if you want to change your image for the better now, consider taking some professional advice.
Invest in a few sessions with an image consultant who will give you the shortcuts to looking your best, and what suits you as an individual. They'll go through the colors and outfits that accentuate your best features, whilst making you look good. They'll also be able to give you tips on tasteful trends, after all, you do want to be bang on style.
Alternatively, you could use the services of a personal shopper who will help you put some good quality outfits together and help you update your wardrobe. Be prepared to invest in some key pieces, it will make all the difference to your overall style. You will also need some good quality accessories. Invest in a quality, luxury watch – but don't be flashy with it. Everything about class is understated quality.  Spend a decent amount on items that will last, but don't make them obvious. You should also consider some tasteful cuff links, and definitely use a good cologne that will become your signature scent.
Your car says a lot about you, so make sure you drive an expensive one if you want to look successful. You can lease one until you have the means to purchase one. Get some good designer sunglasses too and wear them during the day, as this can make you look important.
Behave with confidence, but not arrogance. And be sure to treat ladies like princesses – be the perfect gentleman at all times, patient and indulgent. Be charming and pleasant and act like you know what you want. Be persuasive without being a bully, whilst maintaining an air of mystery. All the ladies will want to get to know you better! It's all in the image and the attitude. If you believe it, then they will too ;)