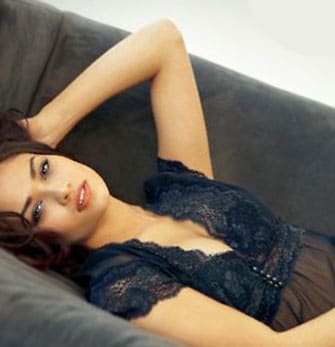 If you're tired of the usual ineffective mediocre tricks and games to get quality attention from women, (quality being the operative word!), then read on to discover how to genuinely have women fall for you. There are many little things you can do, to make a woman crazy about you. Some men know these secrets, and always have woman fawning over them, girlfriends on call, elite supermodel escorts jumping at a chance to meet them again. Do you want to know what those secrets are, and use them in your own life?
Women will make an unconscious and biological judgment about you in just a few seconds, so you don't have much time to impress them!  Unfortunate, but true. The first thing they will usually judge you on is your appearance, so make the most of what you've got. And this is not usually so much to do with handsomeness, as it is to do with class, hygiene, confidence, how you hold yourself and present yourself; your energy. So take a shower at least once a day, and make sure your hair and fingernails are well groomed. These little details all contribute to the overall image her brain will take in and assess.
Dress well and don't be scruffy. You want to be the man of her dreams, not the source of her embarrassment. Use a good quality cologne and don't go mad with the bling. Someone who is trying to hard, or a bit of a nouveau riche will just be an embarrassment – to her and to himself. Behave with class and dignity, like you have always had power and wealth, and you know how to comfortably handle it, without having to prove it. A genuinely wealthy and powerful man is rarely loud or arrogant about it, because be is confident inside.He has no need to prove himself to anyone. This underlying confidence is incredibly appealing to women.
Now you've got her attention, an air of mystery is irresistible. Don't talk too much, she'll be curious about you and will want to get to know you better. Women will fall in love with a good heart, so be thoughtful and be the perfect gentleman. Open doors for her and help her into her seat at restaurants. Make her feel like the center of your world. Women will always assess the nature of a man as well as his looks and ability to provide for her. if you are handsome and wealthy, but a big arrogant jerk, anticipate many shallow evenings and a lonely old age lol. Who you are is worth 10x what you own, or how you look. Money can be lost, and looks most definitely fade and sag! but your loving heart will always be there.
Be charming and funny. These are some of the sexiest characteristics in a man, not to mention a smile to die for. Let your smile reach your eyes, and make your eyes warm and twinkly when you smile. She will be weakened when you concentrate it on her – practice in the mirror if you must, to master the perfect warm twinkling smile. Even a  high-class escort who has men fawning all over HER, can't resist a beautiful warm smile that touches her soul. :)
Clever, intelligent wit is also appealing. Intelligence is probably one of the most appealing points for an intelligent woman. Some women may not have this on their list, but a smart one most definitely will. And while some pretty arm candy is nice and acceptable for the short term, if you want to spend any significant amount of time with your date or girlfriend, she needs to 'get' you, and you her. Mental connection is very important to women, and inadequate education or even natural intelligence will pout her off quickly. But an educated man who isn't showy about it, and can come up with witty little comments here and there, will make her putty in your hands! One doesn't need ivy league education or book smarts to be original and funny – but a traditional foundation of excellent education does help!
These are all some of the external factors, but the internal influences are what pulls the ensemble together. Inner confidence is key. Not cockiness or arrogance or egotistical over-compensation. But calm, collected confidence, in yourself, and in your masculinity. Have faith in yourself and walk tall. Your confidence will emanate from you, and women will feel safe and secure when they are with you. No one likes a doormat or someone who is trying to get attention or prove how great/ rich/ funny/ strong he is. Just let it sit comfortably with you – the right women will notice.
Most women love a touch of romance. It might seem old fashioned, but an unexpected bouquet of flowers or a little gift really does the trick, and is probably the most romantic gesture of all.  It doesn't need to cost a lot, to touch her heart.  In fact often someone taking time to do something personal for her, sans expense, can be meaningful than some expensive bauble. Of course, no woman will say no to a high-quality gift either. ;)
A moonlit walk and 'getting to know you' conversations will make her feel like she's been swept off her feet by her prince charming. This is the kind of thing that makes a woman find you engaging, intriguing and irresistible. You'll soon earn the reputation of a true gentleman of class and style, and all the ladies will want to date YOU! Enjoy… And remember to conduct yourself respectfully.