Location
Geneva, Switzerland
Vital Statistics
Age: 24 yrs
Measurements: 32" C natural, 24", 34" (81-61-86)
Height: 5' 9" (175cm)
Weight: 51kg (112lb)
About Caris
Men dream of spending time with someone like this beautiful, long legged escort-model. Fresh, natural and genuine, she is also extremely well bred and poised. A dance devotee, she is not only a commercial model, but a bit of a socialite; though tastefully so. With her high-end breeding and pedigree, she is certainly adept at social occasions. Having traveled throughout Europe with her parents as a child, she is well rounded and sophisticated. Extremely impressive in whatever she chooses to wear, Caris is always immaculately, beautifully presented. Possessing the typical Parisian style, she turns heads, but always in an admiring way. She also has the knack of appearing inconspicuous, depending upon what she chooses to wear. Discreet and definitely elite, Caris is a wonderful choice for a stunning and entertaining companion model.
Birthplace
Raised in a little suburb near Lyon, she eventually ended up in Paris, inevitably. Now residing in Geneva, she is available Europe-wide. One tends to gravitate to main cities when one is a working commercial model. Monaco is one of her favorite places to hang out, and she generally enjoys vacationing in Bora Bora. However with the right person, anywhere is her favorite place. With a loving, romantic heart for one so worldly, Caris is a feminine dreamer, under her smart, confident facade.
Academics & Personality
Having attended only the finest educational institutions, Caris is more than capable of handling any social situation with aplomb. She makes friends easily, and is extremely charming. (Well who isn't when they're speaking French..?)  Caris has purchased a beautiful old apartment, and is in the process of renovating it. Anyone who has done any redecorating or renovation will understand the money pit that properties can be! Caris looked for a way to bring some more income, as well as meeting new people - when she found Mynt, she knew we were the perfect match. Not only could she fund her renovations, she could have lots of fun doing it!
Hobbies & Leisure
Caris still enjoys dancing for fitness, as well as regular gym sessions. She eats a very healthy vegetarian diet, and occasionally eats fish and salmon. Speaking fluent French, Spanish and English, Caris is pure class on every level. Her beautiful smile and tinkling laugh are intoxicating. Contact us now to arrange an appointment with this willowy model beauty.
Luxury limousines, personal jets, yachts, helicopters and close protection security available.
Please contact us to arrange an invitation. We will quote you directly.
Caris' fees begin at E4500 for 4 hours in Europe.
Private photos, video and other confidential items are exclusive only to Mynt Members.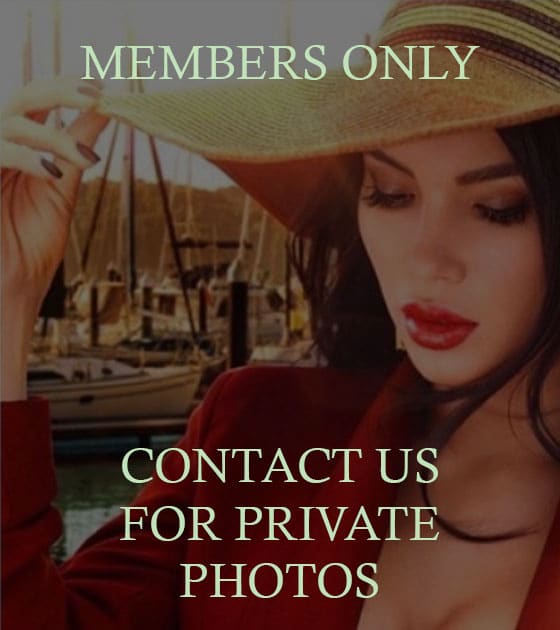 Other Models Available for Geneva Dates